Tracey and Neil are an amazing couple. They have a son Jay, who is in the Sea Cadets, and they devote all their spare time, voluntarily, to train to become instructors for the Sea Cadets. They are incredibly good students, dedicated, attentive and practice until perfect.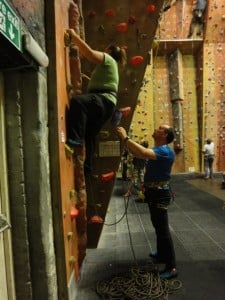 Their weekend in North Wales was planned as a scrambling weekend, to train TJ and Neil to become independent scramblers so they could at least take Jay out and about as he loves to climb, though not necessarily attached to a rope!
Typically of Snowdonia the weather was very unkind on the Saturday with torrential rain and gale force winds so they retired to the Beacon Climbing Centre to work on sport leading, lead belaying and climbing techniques. They also did a mini Climbing Wall Lead Award training session. It had been a while since they both did any lead climbing so they were a little rusty and lacked confidence, particularly Tracey who is often very hard on herself. They both did exceptionally well, leading several routes and showed definite improvement in their climbing technique. The weather meant the Beacon became quite busy, and several climbing friends turned up, which made the day a very sociable occasion.
Ali introduced TJ and Neil to the GriGri, a very useful belay device, particularly when working with groups indoors, and showed how they could be used to self belay if you had to rescue a 'frozen' child.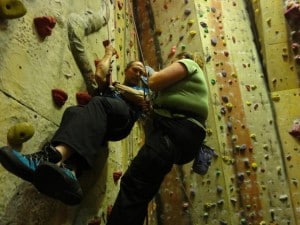 As the centre got busier they moved to a quiet corner to look at belays in preparation for their scrambling day. The bouldering section has an area where you can build belays by using natural protection; threads, cams and nuts. TJ and Neil took it in turns to tie in, create belays, and 'belay' their second up, ensuring everything was in line – ABC – Anchor, Belayer and climber.
An excellent first day, Tracey and Neil buzzing with all they had learnt and looking forward to putting it into practice at Tryfan Bach.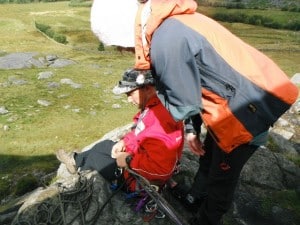 Sunday dawned bright and sunny after a night of heavy rain and ferocious winds. Everyone got ready and headed uphill from the campsite to Little Tryfan and some serious scrambling. They began by getting close and personal with cams and nuts, constructing belays by equalising with slings to a central point, and using the rope only. Ali was very impressed with how quickly Neil and TJ became proficient in recognising good gear placements and they were soon ready to lead a scramble. Neil opted to go first, and he seemed calm and collected in his first trad lead ascent, though apparently he was terrified. Ali was on hand to ensure the belay was solid and that everything was in line, with Neil in the optimum position to bring up his second.
And all too soon it was TJ's turn. Ali didn't find out until afterwards that TJ had a loss of faith before her ascent and didn't think she could do it. Tears were involved! TJ is a very capable woman and does lack self belief, but Ali knows TJ can do anything she puts her mind to and she did lead the route in good style and her gear was excellent.
An incredible weekend with exceptional people. Thanks must go to Andy Varley, a trainee SPA who helped the weekend run smoothly.