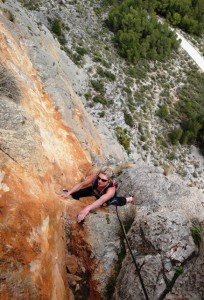 It was with great excitement that I suddenly found myself off to the Costa Blanca for 9 days with my friend Rich. He was the one who suggested getting away over the Easter holidays then left it literally to the last minute to commit, but managed to book the flights, apartment and hire car over the course of an evening 2 days before we flew.
Arriving in Calpe to warm sunny weather was fantastic and although the forecast was a bit iffy for several of the days it never actually rained, it was never cold and we always seemed to be at the right crag for the best of the sunshine. We timed it perfectly as the weather in the UK was awful whilst we were away.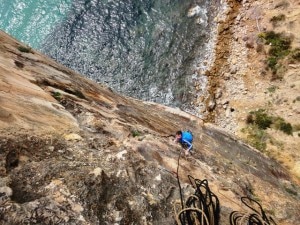 We mixed sport and trad climbing, single and multi-pitch and visited many of the crags in the area – Toix, The Echo Cliffs, the Penon and Raco del Corv. There is such a mix of climbing, from slabs to overhangs, smooth to sharp rock and technical to pump fests. Some people (me) might say the grades are a little stiff, but there is something for everyone and it's a great place to learn to sport and trad lead climb as the weather is so reliable.
It was over all too quick, but to be honest my bloody fingers couldn't take much more of the sharp rock. Awesome.
See the 'Events' page to book a place on the Monsterclimbs Costa Blanca climbing holiday in May 2013.
Ali Taylor