I have just spent the most amazing time in the costa Blanca with a group of people who a year ago were clients and I now see as friends. My relationship with Alan & Nich started last June with a recommendation from other clients and has blossomed ever since. Alan is the more experienced of the two and I have seen him grow in confidence and technical ability. Nich is starting from scratch so he is learning fast but doesn't have the experience for self belief but that will come with lots of climbing mileage.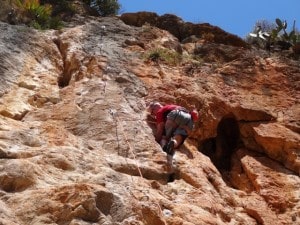 After flying to Alicante – Business Class – I was picked up by Alan and his wife Norma in Bertie their trusty BMW estate. After shopping and a quick lunch we were on the crag at Toix Oest for a spot of sport climbing in beautiful warm sunshine. Day 2 at Pena Roja Alan led a fabulously overhanging 6a+ La Llibertine and fell off in dramatic style. He had a lovely soft fall as I shot 2 metres into the air.
We took advantage of an early rise on Day 3 and I guided Alan up Diedre UBSA on the Penon. It has been re-equipped in places but it is best to take a full rack if HVS is your leading grade as the bolts/pegs are very spaced. Our reward awaited us at the bar at the port with dos Cerveza Grande y chips.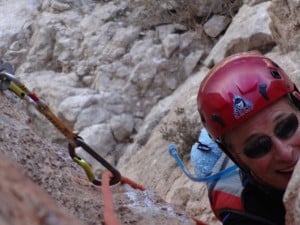 Nich, his wife Nichola (having just run the London Marathon), and their children Sam & Elijah arrived that evening. Alan had the following day off to spend with Norma whilst Nich & I headed to Toix TV. We did several routes before it got too hot and too crowded. Nich found the bolts a bit spaced but they are mostly well placed so there is a bolt close by when doing a hard move. The highlight of the day was as I was lowering Nich off and as he stripped the last quickdraw I was taken off my feet and dragged sideways through a narrow gap. Just a few cuts and bruises but the important bit was I didn't let go of the rope much to Nich's relief.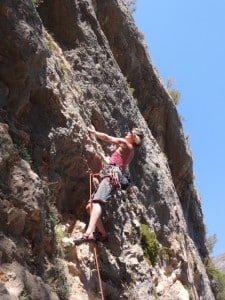 The following day we all went to Guadalest, a crag situated next to an ancient village and the site of a crag top church. Norma came along to take photographs and had a climb too. The climbing was very technical and it was good to see both Alan and Nich going for the move rather than sitting and resting on the bolt which meant a couple of nice falls. Alan led  a 6a – putting in all the draws with incredible determination and good style and some very interesting noises.
After a day's rest, giving chance for the fingers and toes to recover we headed for Castellet – Echo 1 – and a spot of trad. Norma came too and joined us after a mountain bike in the hills. We took it in turns to lead; Alan like a boisterous puppy desperate to be on the sharp end. He led a tough HVS putting in plenty of gear and happy to fall on it too. Nich was a bit more reluctant to lead, but once he was happy with his first few pieces he began to relax and enjoy the climbing and did his first HVS clean. The highlight of my day was to throw myself at Rough Rider E4 6a, which I flashed with great determination, foul language and gritting of teeth.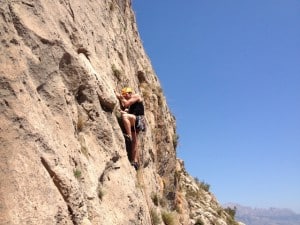 Alan, Norma and I spent the next day at Alcalali for a more gentle day and I spent time with Norma helping with her technique and footwork. She made excellent progress and flashed Primero 3+ – in trainers. We then did a couple more routes but it was extremely hot and Alan & I had to resort to wearing Norma's floppy sun hat to belay.
A tougher day at Gandia. I failed on a 5+ but flashed two 6b+'s – that's climbing for you. I fell off the start of the second 6b+ before I had any gear in and Alan caught me in midair. Cool – this is the advantage of being light and having a big strong man belaying you. Alan led several routes well, but one gave him a little trouble – a runout with a technical move. He tends to overreach, rather than twist and move his feet up, but he is working on this.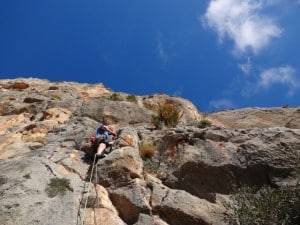 Alan's final day and he fancied a big trad route, so we returned to the Echo cliffs – Aran de Bastitot and Diedro Edwards E2 5c. Alan led the first pitch, an overhanging crack and groove and he put his heart and soul into it. A good lead. I ran the next two pitches together, and although given 5+ it felt more like 5a.
There was no going back after the next 5b pitch as the belay wasn't suitable for abseling. I was glad it was a short pitch, as it's technical and steep. And finally the crux pitch E2 5c; although it does have 2 spaced bolts at the crux as there is no other protection. Once through the crux, theres a mantle onto a sloping ledge with no holds, but pro at the back and then it's fairly straight forward to the top, but I was tired. I got above the red cam and kept moving looking for pro, got my hands on jugs with a thorny plant scratching me to death, as both feet shot off and I scrabbled them back on, rammed the yellow came in and narrowly escaped a very big fall. Phew.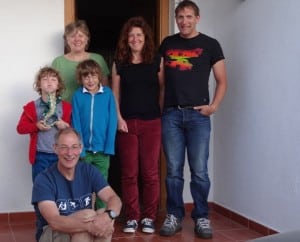 The final day – back to trad with Nich, but he did all the leading and was more of a coaching, instructional day for me, giving my aching body some respite.
'One of the best climbing trips I've ever had, and holiday too with some of the nicest people I've ever met. I'm a very lucky girl'. Ali Taylor
'Ali, Nich & I have just had a brilliant 11 days in Calpe, Costa Blanca, with our families. And, of course, intensive climbing. A fabulous selection of sport and trad (my favourite) single and multipitch routes at all grades.
Ali's brilliant coaching and selecting routes as our confidence grew. My personal highlights: the 10 Pitch HVS 5+ Diedro UBSA at the Peñon, and the five pitch Diedro Edwards E2 5c at Vall de Guadar (Echo Valley). Following the rather scary 5c crux which Ali led was a true testimony to her climbing skills and leadership.
Confidence boosted, skills increased, good fun with mates and family – what more could anyone ask for. Oh, of course, unrelenting sunshine and 24deg C!!!!! Thanks for a fun 11 days'. Alan Davies