When you hold a Mountain Training Award you must hold an appropriate First Aid certificate that is renewed every 3 years. With an MIA you must do a minimum of 16 hours. I was fortunate to find a Remote First Aid course based in Youlgrave and run by www.will4adventure.com .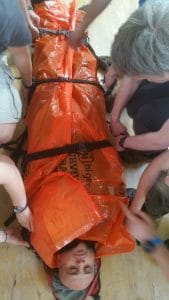 We were a mixed group f 9, from a Doctor to a volunteer who just liked walking and wanted to now what to do if she came across an emergency situation out on the hill, from a mountain bike club member to a Mountain Rescue volunteer. The quality of instruction was excellent and the information for signs, symptoms and up to date protocol was spot on. There were many opportunities to put into practice what we had learnt from simple first aid – sprains and small cuts to serious incidents with multiple casualties that needed managing.
We had to do 2 exams – multiple choice, one at the end of each day and had ongoing assessments based on our management of scenarios.
The final assessment took place in Lathkill  Dale with many scenarios to deal with from choking, to unconscious bleeding casualty, to unconscious but awake casualty with serious head injuries. Casualties were dealt with as they were found, which often involved awkward positions and having to move the casualty to ensure the airway was uncompromised but ensuring no further damage was caused to the casualty.
Fortunately it was a gorgeous day, but unfortunately Lathkill Dale was extremely busy and we were so convincing that we were approached several times with offers of assistance – even though we did our HELP shouts as quietly as possible.
We learned a great deal about methods of observation, formulating a diagnosis and acting accordingly. In the outdoors many situations involve just waiting for the emergency services to arrive, but continually monitoring and reassessing the casualty can be of great help to the emergency services. Keeping calm, doing as much as you can without compromising your own safety can be very reassuring to a casualty even if they are unconscious.