What a fickle lot we are with the regards to the weather in this country, too hot, too cold, too wet, too windy – is it ever just right? If we waited for the perfect conditions we'd never do anything. I always check the forecast and go where the sunshine is.
June has been another busy month with teaching and personal climbing.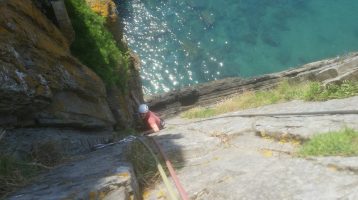 I had a cheeky day at Symonds Yat with Dave Penrose and led, amongst others, The Penny Dropped, an E25c without much gear to be had. A great route for working the mind and staying focused.
And during the hottest day of the Summer so far I spent a few days in Devon and Cornwall, climbing at Hay Tor, Sharpnose and Baggy Point. Absolutely stunning scenery and the routes were just brilliant. Tidal sea cliffs can be exhilarating places but great care needs to be taken when abseiling in to tidal zawns and platforms and a respect for tides and big seas.
I also managed to work indoors in that gorgeous weather too, running a Climbing Wall Award 2 day course at Undercover Rock in Bristol with 6 enthusiastic and determined candidates. It was an all male course for the first time in a while. As well as learn
ing new techniques, managing groups and correcting bad habits there was a great deal of fun to be had with games, rescues and balance boards.
I had the opportunity to work with members of Bristol Women Climbers at UCR – a learn to lead sport climbing course with Esther Wong and Kate Martin who did exceptionally well on the day long course – learning to clip, to lead belay, to fall and to develop their climbing technique.
A falling workshop also attracted some attention from Bristol Women Climbers – Freyja Lockwood, Claud Lonsdale and Christine Sluman who after an hours refresher of belaying and climbing technique got lots of chances to fall in a very safe way. Some were braver than others but to be honest although they all did well – they hated it!!!