An accountant and a Mechanical Engineer drove to Symonds Yat to learn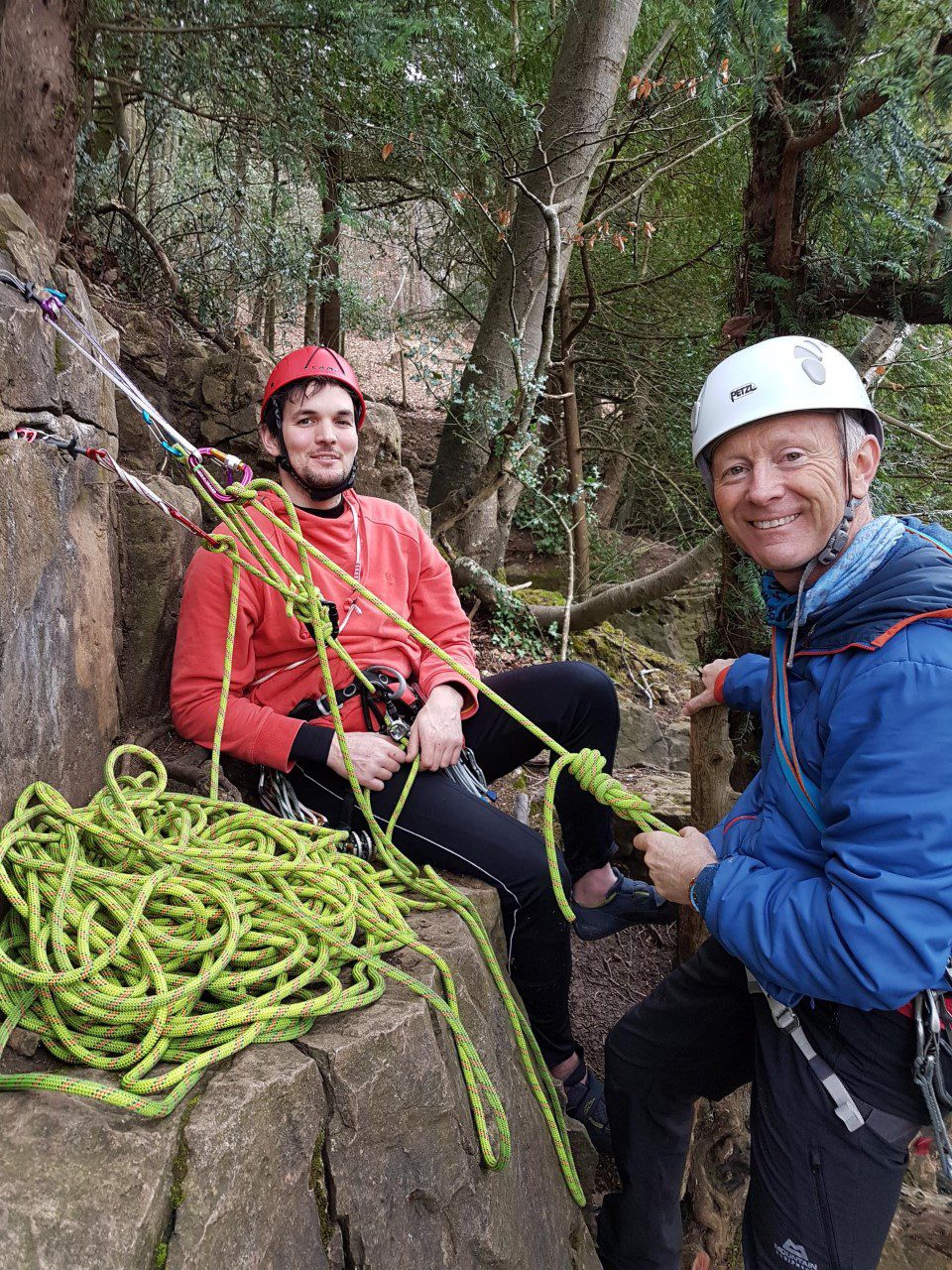 to trad lead climb and they learnt by the numbers and engineered magnificent anchors!! Will came over the bridge from Bristol and John drove down from Lancaster for the course. John had previous trad leading experience and Will had none, but with his engineering background he quickly grasped the concepts of placing gear, building anchors and top rope belaying – bringing up the second.
I always have an idea of what I'm going to do with my clients on Trad Lead Courses but it is very much driven by the needs of the clients and how quickly they learn the skills, and incorporate them into more challenging situations. Will and John were excellent students.
Placing gear – using one hand – is probably the most difficult skill to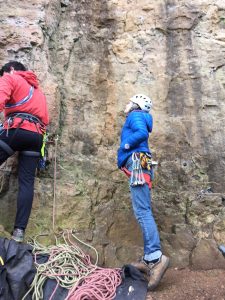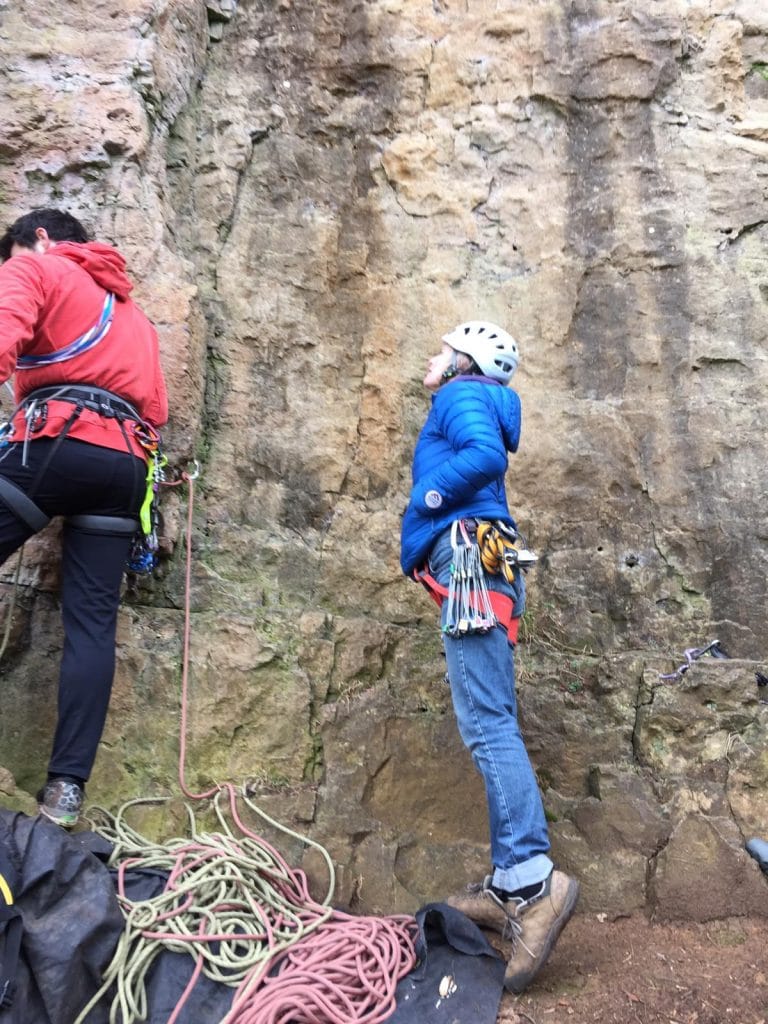 master and when you are standing on 2 small holds it's even more skilful. I always check clients understanding of the physics behind placing gear and building anchors whether they are within reach or a few metres away before they begin to do it off the ground. There is more than one way to build an anchor and you need to adapt your skills to different circumstances.
Some routes lend themselves to using single ropes, particularly if the route is in a straight line and the gear is close to the line. Whilst if the route meanders, traverses or the gear is away from the line of the climb double or half ropes are more appropriate. We spent the first day climbing with a single rope, as Will had sport lead experience which enabled us to build on the skills he had already acquired, and the second day we climbed used double ropes.
In some ways the double ropes made things easier for Will and John, as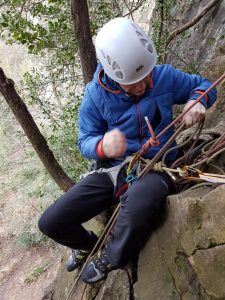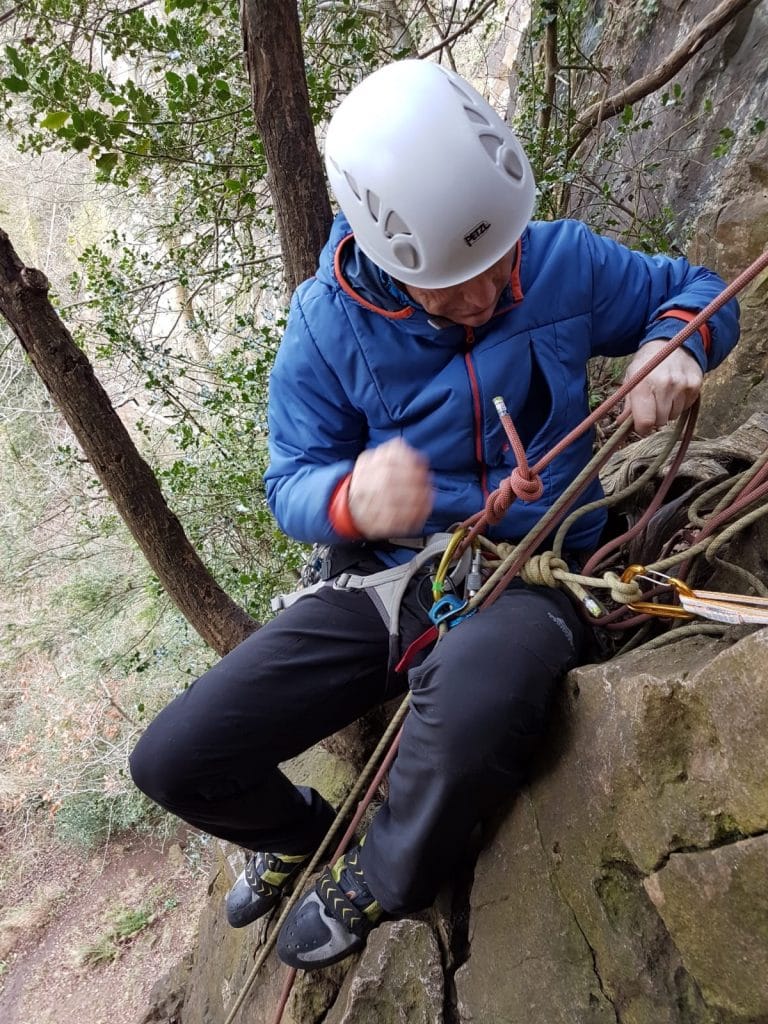 they could put gear wherever they wanted clipping to the left and right, and building anchors became easier too, but they found the lead belaying quite tricky, having to pay out or take in on just one rope. They also found the ropes heavier as they belayed from above.
John demonstrates the perfect locking off position, 180 degrees as he belays Will, bringing him up to the belay. He does, however, have the rope between his legs, which means if Will falls off the rope will cut into his leg. John found this more comfortable than sitting with his legs together, and the belay to the side. I explained to John that as long as he kept the rope tight on the second this would not be a problem (we did a demonstration with John taking Will's full weight), but any slack in the system would apply a much greater pressure and the rope would cut deeply into his leg.
Will and John's climbing skills were excellent, always on their feet and in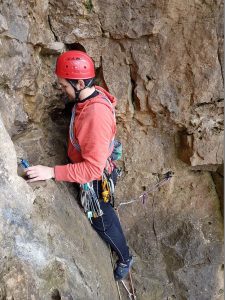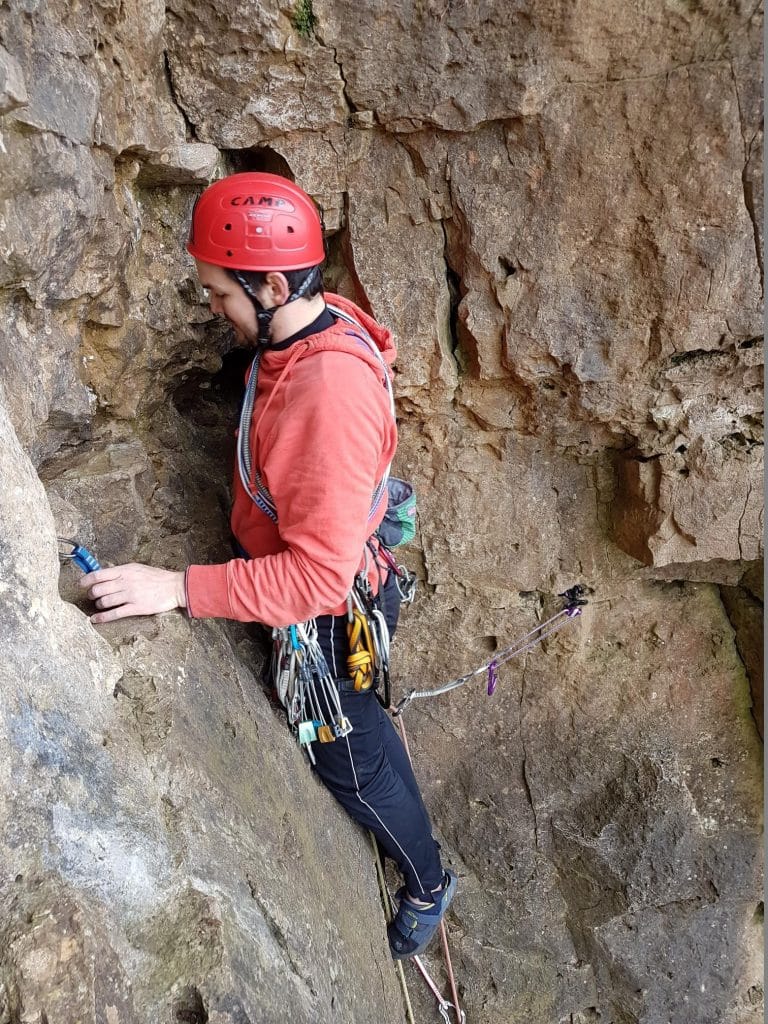 good balanced positions to place gear. They were both calm and focused and even managed to breath during the more difficult sections. Learning to lead climb is one of the best ways of improving your footwork as you have to be in balance to place gear.
We were very lucky with the weather too as it was due to rain at 3 on the 2nd day, but we started at 8 and finished at 4 just as it started to drizzle.
Well done to both climbers for being such outstanding students. It was a pleasure to work with such talented and conscientious trad lead climbers.