The Monsterclimbs team had a  challenge on their hands in July; to teach a teenage kayaking guru to climb and improve her navigation.
Tony and Ali had 4 days to train young Pamela in the basics of rock climbing and hill navigation. She arrived day 1 with her own top of the range harness, determination and an amazing sense of humour for one so young.
Unfortunately for the team the weather was typically English and it rained for much of the day at Wintours Leap. Pamela wasn't put off by this and gave her best on the only dry route in town, Surrealist E1 5b. The weather didn't give up and they had to retreat to a café and hot chocolate with cream, marshmallows and chocolate flakes. It's a hard life but someone has to do it.
Day 2 took the trio to the Brecon Beacons, a glorious day for walking, navigating, taking bearings and hiding in the ferns. They bagged Table Mountain, Pen Cerrig-calch and Pen Allt-mawr before heading back to Gloucester. Pamela was an excellent hill walker with stamina, good pace and a brilliant attitude.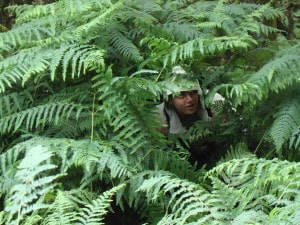 Day 3 was a successful climbing day in the Forest of Dean. Tony, Ali and Pam headed to Symonds Yat and climbed 5 routes in excellent style. Only her second time on rock, if you can count Wintours Leap, Pamela was a determined and skillfull climber. She learned many new techniques including bridging and side pulls, tied her own figure of 8 knot and learned how to lead belay, including lowering off.
Her last day came too soon and the happy trio headed for the Brecons once again, to tackle a smaller mountain, Sugarloaf, and give Pamela the chance to take a more independent role as 'The Navigator'. Pamela has already achieved her Bronze Duke of Edinburgh Award, and is hoping to go on to do Silver and Gold. With her determination and developing skill she will have no trouble at all.
The weather forecast was atrocious but they didn't feel a drop of rain until they were all safely back in the car at the end of the day when it tipped it down. Good timing eh!!