The 2 day Trad Lead Course is the most popular course I teach and one that I

most enjoy. Clients come in all shapes and sizes, young and old, beginners and experienced, male and female, with an indoor, sport, trad or mountaineering background. So no two courses are ever the same, and are tailored to meet the needs of the clients, even if they all have different needs.
I always begin by chatting to the clients to gauge their experience and what they want to get out of the course – I have a good idea from their emails when booking the course but I usually get a lot of information from watching them on the approach to the crag. Are they watching where they put their feet?
Racking up creates a lot of discussion but as long as it is logical to you and you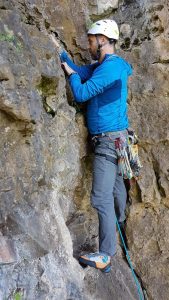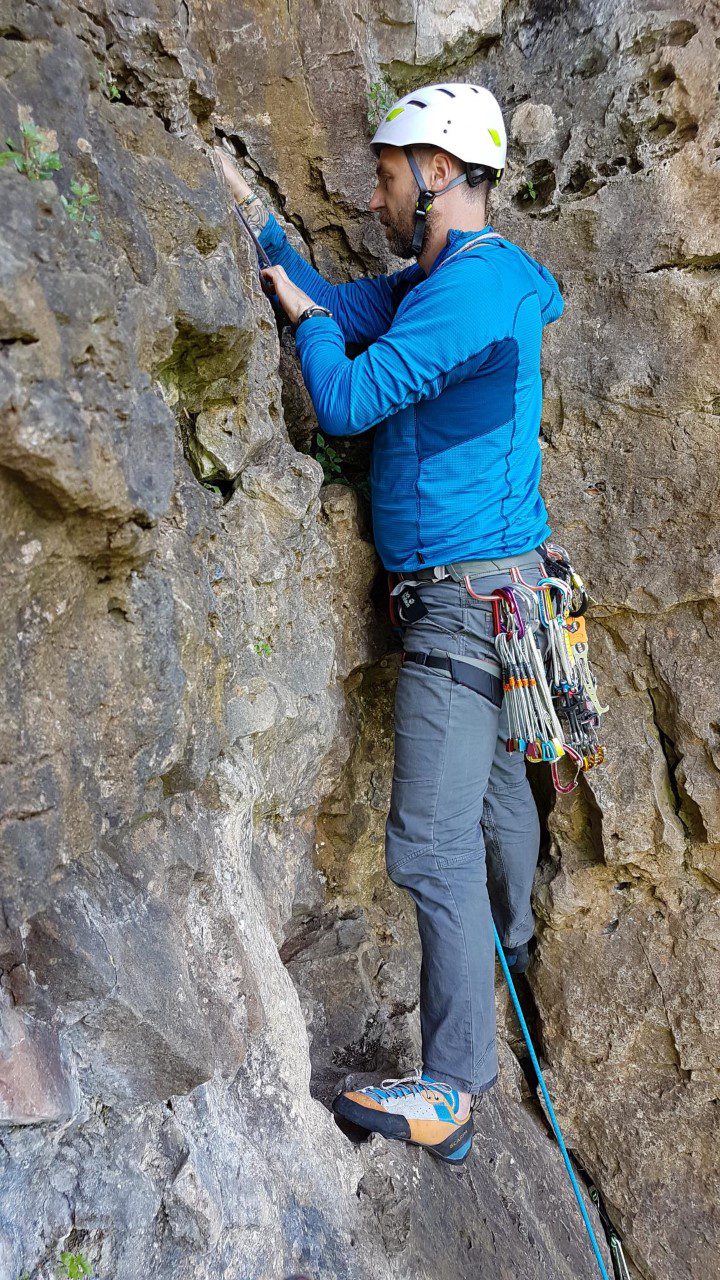 put everything in the same place each time there's not really a right and a wrong way to do it, and you may adjust it as you gain greater experience and buy lots of shiny new gear.
Placing gear is an art, you look at the possible placement and guesstimate what is likely to fit. You're looking for contact with the rock whatever you choose and whether it will take a downward and an outward force.
Building an anchor is one of the scariest things you'll ever do, and sitting forward with all your weight on the anchor for the first time is nerve wracking. Usually by this time you have become to trust your gear and you are beginning to understand the physics of climbing.
The first day is spent learning everything using a single rope but depending on

the clients they may or may not move onto double ropes for their second day. There are advantages and disadvantages to both methods and the decision is made as a team. If you are used to belaying indoors or sport climbing with a single rope there is very little difference except you need to stay in close to the base of the cliff so that if the climber falls they do not unzip their gear. You may also have to have a ground anchor if you are on steep ground or the route begins on a ledge.

Belaying using double ropes takes a lot more skill and concentration as you may have to take in on one rope and give slack on the other without letting go of the dead ropes. It is confusing at first and good communication between climber and belayer is essential. The benefits of double ropes outweigh the difficulties as placing and clipping alternate gear means a shorter fall, building an anchor is more efficient and to abseil you just tie the 2 bottom ends together.
Once you have completed the course it is not the end of your relationship with Ali Taylor, you can call or email for all sorts of advice and information at any time, but it's not quite the same as having her next to you on the ab rope offering support and advice.