July saw Monsterclimbs once again leading Hillingdon in their Gold D of E practice expedition. The venue was Snowdonia in North Wales, a great challenge for the young people. Their four day route took in Y Garn, Glyder Fawr, Y Lliwedd, Snowdon, Clogwyn Du and Clogwyngarreg.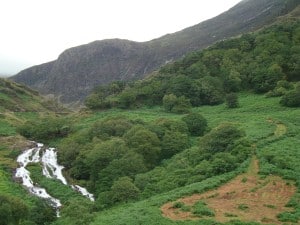 Spot the group on their way to Snowdon via Afon Cwm Llan
One group experienced an impromptu wild camp at the foot of Snowdon due to deteriorating weather conditions, but Ali and Jonathan from the Hillingdon team ensured their night was a mini adventure, and added to their experience in North Wales.