Tony and Ali have had 3 fantastic trips to the Costa Blanca in Spain during the winter months of 2009. Two trips were with customers and one a holiday – climbing of course.
The working holidays were all inclusive, and organised completely by the monsterclimb team.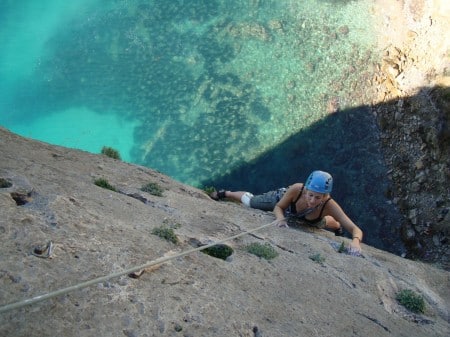 Chris, Helen and Lou, 3 friends from Gloucestershire planned their trip well in advance, but unfortunately Lou damaged her cruciate ligament the week before the trip.
Fortunately for Lou, because monsterclimbs is a two man band they were able to entertain all 3 members and even took Lou up several multipitch routes, always with a monster by her side in case of difficulty.
They visited the Echo Cliffs, the Penon, where Helen and Chris did an 8 pitch route, Toix Oeste, Toix TV and Raco del Corv, an amazing sea cliff where the routes traverse in and then soar above the sea.
The trio led and followed both trad and sport routes and enjoyed the amazing Spanish weather, usually very reliable at this time of year.
Early December saw Tony and Ali taking a well earned break to spend 15 days in the Calpe area of the Costa Blanca. The weather was unseasonably cold for several days, in fact it snowed and the mountains got a dusting of snow, but Tony and Ali still managed 9 days of climbing.
As well as the usual venues, they were introduced to a new crag by Mark and Rowland Edwards, who had developed the routes. The crag is situated next to the Puig Campana and is called Castellet. It has several different areas with sport and trad routes of all grades and is quite accessible. The best thing about the area is it is amazingly beautiful and unspoilt and the rock is immaculate.
The gruesome twosome also visited Gandia, a sport venue, the Echo Cliffs,  sport and trad, and Toix Oeste where they discovered some amazing 44m sport routes on perfect white rock.
Flying back for Christmas in the UK, the couple were back in Spain for the New Year with the Palmers, a father and two sons wanting to develop their climbing  and especially their leading skills.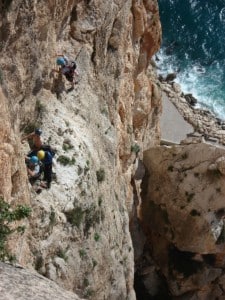 Toix Oeste gave them their first taste of Spanish rock, where Tony and Ali were able to look at their climbing and within half an hour they were leading their first sport route. The Echo cliffs gave the Palmers an opportunity to lead trad routes, to create belays, to place bomb proof gear and to learn how to get safely off a climb, including abseiling.
Gandia enabled Tony and Ali to concentrate on their movement, and in particular their footwork.  There were also more opportunities to lead sport routes. The big adventure of the week was a 10 pitch route on the Penon.
Tony took Ed and Steve, and Ali took Jim on Diedre, UBSA a classic route, taking an obvious line up the middle of the 1000' mass of rock, which includes a 15m abseil followed by a traverse in a spectacular setting. It became the favourite day of the trip as the Palmers learnt about stance and rope management, preparing them for their own adventures in the Lake District.
A different crag a day, their intensive trip gave them amazing confidence and developed their climbing skills to enable them to become independent and safe climbers.
Steve Palmer – For all 3 of us the trip surpassed our expectations in terms of our enjoyment of both the climbing and the company of Tony and Ali. From our point of view, it couldn't have been better, an instructive and enjoyable holiday