I have taken my children Gemma and Ben climbing on and off since they were little. Ben has always remained keen and climbs when he is able, but now a father of 2 little girls, (yes that does make me a Grandmother, shhh!) he doesn't get the opportunity very often.
Gemma on the other hand has been switched off from climbing for some time. However, she recently started dating a new chap, quite the outdoorsman who having never been climbing quite fancied the idea. Tony and I gave him an introduction to climbing at Symonds Yat and he was quite terrified to start, Gemma took the opportunity to demonstrate her years of experience and secretly enjoyed his discomfort.
They have been walking in Snowdonia since and were drawn to areas where walking veered towards scrambling but were put off, thankfully, by the exposure, their lack of experience and equipment.
That's where I came in. Needing some guinea pigs for my up and coming Mountain Instructor Award mountain day, we met in Llanberris for a weekend of scrambling.
Saturday was typical of summer Welsh weather – tipping it down with rain, but they were both up for it in spite of the weather. We headed to Cwm Idwal and Cneifon Arête, a grade 3 scramble. At the bottom we put on harnesses and I tied them in using a standard short roping technique, with one on the end of the rope and the other on an isolation loop, a good kicking distance away from each other. It had stopped raining.
They expected it to be easy to start, so were surprised by the difficulty and felt very exposed, but I kept the pitches short, and stayed within sight so I could encourage and help their ascent.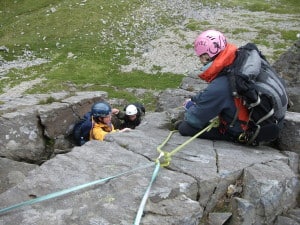 As they got higher the exposure became greater, but the climbing got easier and they became more confident. It was lovely to see how they worked together, having never climbed simultaneously before, and remember this was only Ross's second time on rock, and they were obviously very much in love. I could see great potential here for the future. Was that wedding bells I could hear?
We reached the top just as it began to rain again and we were soaked by the time we got to the car, but it was worth it just to see the radiant smile on their faces.
The following day we ascended the north ridge of Tryfan, a grade 1 scramble, which we ascended unroped, with lots of spotting and encouragement. There was one tricky section that Ross struggled with, and Gemma lost her confidence, but we quickly tied the rope around her waist, belayed her via a solid spike and the difficulties were overcome. I was a very proud mum at the end of the weekend.