After a very successful, all inclusive trip to Spain with Monsterclimbs in October 2009,  Chris,  Helen and Lou, requested the services of Monsterclimbs for a repeat trip in October 2010.
On returning to the UK in 2009, Lou,  who had damaged her cruciate ligament the week before the trip, had to face surgery and then months of physiotherapy. Fortunately for Lou, by the time October came round she was fighting fit and ready for action and looking forward to a major route on the Penon, the 1000' rock jewel of the Costa Blanca.  Having missed out the previous year Lou was aching to experience climbing on such a huge scale.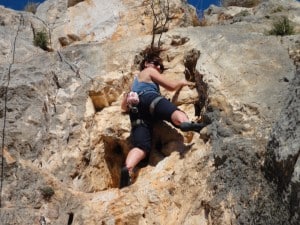 The build up to the Penon included trips to Toix Oeste, Toix TV and the Echo Cliffs. The gang were keen to improve their leading skills and lead both sport and trad up to 6a and VS trad.
They also followed some harder sport and trad routes, particularly enjoying the steeper trad routes with greater friction. Lou had a bit of a cry seconding a sport 6b, but it was out of frustration on the stopper bulge.
The weather was amazing during their stay and they managed to cram in 7 and a half days of climbing.
Day 4 they were up at 6 a.m. and at the bottom of the Penon by 8a.m.  It was a beautiful day.  They dressed for warm weather and carried light packs with essential water and snacks for a quick ascent.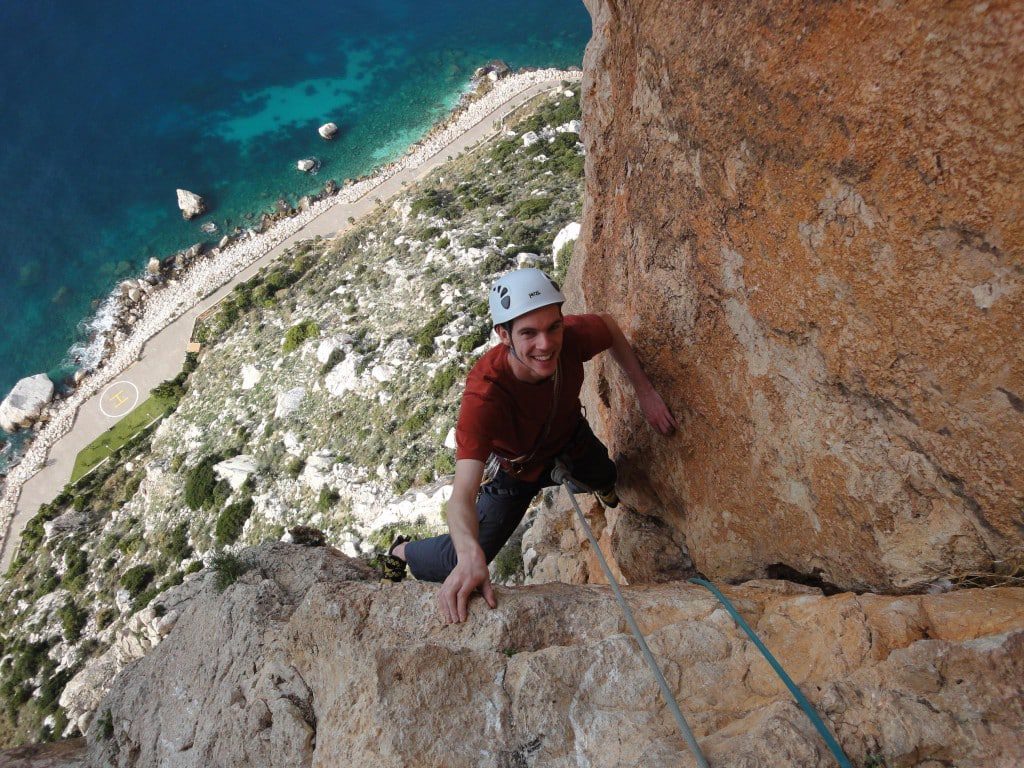 Diedre UBSA
Their objective was Diedre UBSA,  one of the classic, original routes on the Penon; ten pitches at HVS 5a, with an abseil at pitch 7.
Tony led off with Helen, using one rope and stayed a pitch ahead, whilst Ali led off with Chris and Lou using two ropes.  All three found the climb exciting and exhilarating.  Chris had thought that he might have the opportunity to lead one or two of the pitches, but although the climbing was suited to Chris' style and ability, he found the route extremely run out, which put him off.
Diedre UBSA has been re-equipped to a great extent with bolts and threads, but they are often 15 to 20 feet apart, so it is a good idea to have a couple of grades in hand so you do not lose your nerve whilst leading it.
The route is very adventurous, following obvious lines in some places, then having to use your route finding skills in others, where the gear is spaced apart and it's not very clear where the route goes.  At the top of pitch 6 there is a lower or abseil for 25 feet and a traverse to the next belay, which everyone found thrilling.
Having good rope management skills is essential on this type of climb. An airy, exposed penultimate pitch leads to a very easy finish. And a long walk off leads to the bar and a rewarding and refreshing beer.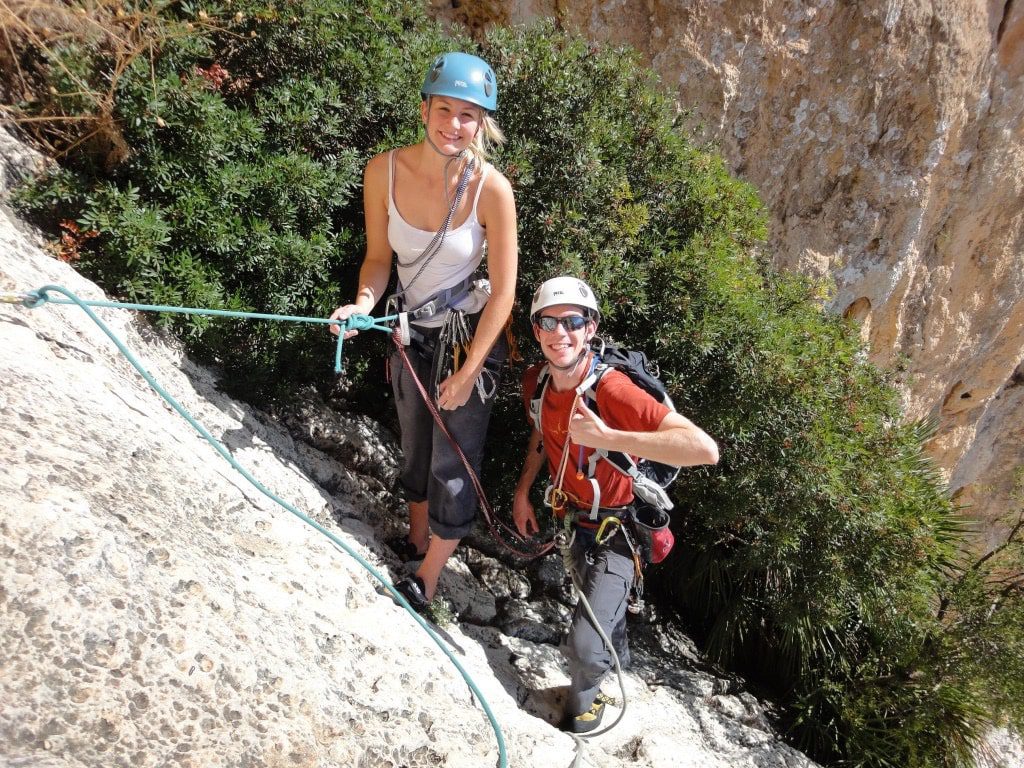 The remaining days took them to Gandia (the hottest day of the week and climbing was abandoned in search of ice creams), back to Toix Oeste where Chris, Helen and Lou took the plunge and went multi-pitch climbing unguided by the monsters.  They were amazing, taking control and responsibility for one another their confidence blossomed as they flew solo.
The Castellets
They all spent a day at The Castellets, where they were overwhelmed by the raw beauty of their environment and by the quality of the climbing.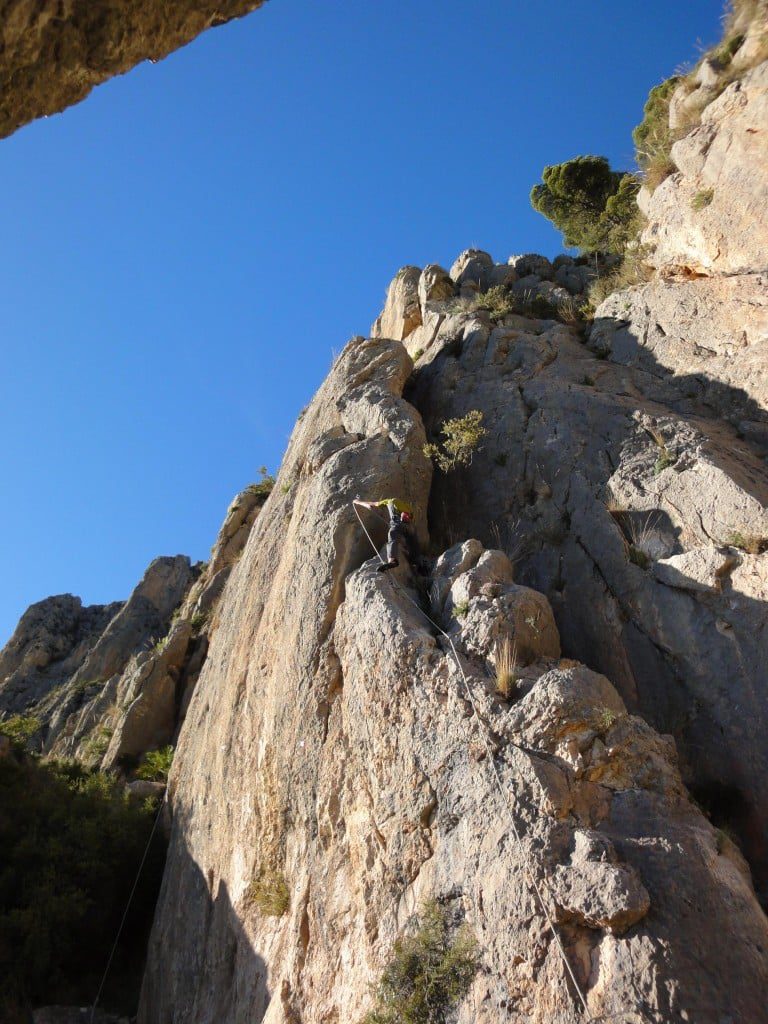 The crag has only recently been developed by Mark and Rowland Edwards who have lived in Finestrat for many years and have developed many new climbs in this area.
The rock, therefore is pristine, sharp with awesome friction, and not a polished hold in sight.  The area has many unclimbed lines and holds great potential.
Chris, Helen and Lou loved it, though they weren't used to such sharp rock and left with a few flappers, but with some excellent leads under their belts.
Their final day took them back to the Echo Cliffs, probably their favourite crag, with its mix of sport and trad routes. Lou had trouble falling off until a ghecko leapt onto her hair whilst she was climbing and she threw herself screaming into the air without a second thought.  Result!
The brilliant week came to an end; Helen Lou and Chris had moved on so much; confident and independent:  Have they flown the monster nest?