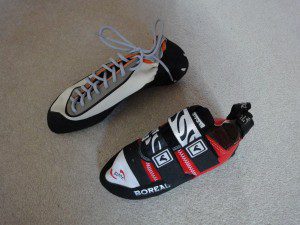 If you think of climbing shoes as an essential piece of equipment and probably THE most important piece you are more likely to choose the right shoe for you.
The correct fit of climbing shoes will give you the most pleasure and possibly a little pain from your climbing.
The choice of shoes is amazing; board lasted or slip lasted, lace ups or Velcro, leather or man-made, beginner or technical? A board lasted shoe allows the toes to flatten, and are a good beginner shoe, in that they do not scrunch up the toes, but you must still go for a tight fit and take them off between climbs. Climbing shoes are designed for climbing only and NOTHING else. A slip lasted shoe, is far more technical, it is softer and more flexible and therefore more sensitive and is designed to fit with bent toes allowing you to stand on very small holds
Tips for Choosing Climbing Shoes
Lace up shoes will give you a more precise fit down the length of the shoe, but Velcros are easier to take on and off and ensure you will go for a closer fit.
Leather tends to give over time, whilst man-made materials have less give and are more likely to maintain their original fit.
A beginner shoe will offer stiffness that may be useful initially, but the shoe is often soon outgrown and discarded for a more technical shoe. Whichever shoe you decide it must be based on the fit, so that the foot cannot move inside the shoe, and tight enough to make you want to take it off between climbs, but not too tight as to cause tears of pain. And try on as many different makes and styles of shoe before you make your choice. If the shoe is too loose it will allow the toes to move inside the shoe which means you will be unable to keep your feet on small holds and be more likely to use the strength in your arms to keep you in balance which is inefficient.
Choosing a Climbing Harness

Choosing a harness is a difficult decision to make, in that there are numerous manufacturers who make numerous models and it depends on what you want it for.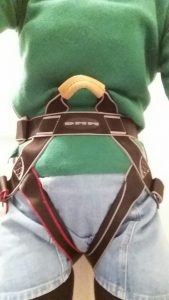 For example, if you only want to go scrambling or easy mountaineering there is the lightweight Alpine style harness that is often only slightly padded that fits all and enables the climber to wear over clothing and is easier to put on while wearing crampons. It is also a style that has become common for group use but is not very comfortable or suitable for lead climbing.
Lightweight Harnesses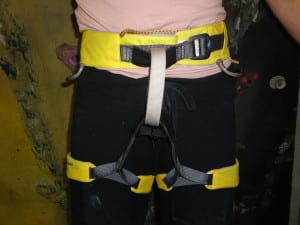 Another type is a lightweight, lightly padded sport harness, often with only 2 gear loops which is used for indoor and outdoor sport routes, i.e. those that have been bolted and only need quickdraws to place and clip.
The most common trad harness is the most functional type, which is generally more padded and has 4 or more gear loops so that it can be used for both single and multi-pitch, sport or traditional routes (those where you place your own gear). A harness must fit snugly around the waist, with the belay loop dead centre and with enough tape left to extend through the loops on the waist belt, even if you are wearing a thick jumper. The middle loop at the back of the harness should sit in the middle of your back. Leg loops should fit comfortably around the top of the thighs, which if they are adjustable should have enough tape to extend through the loops.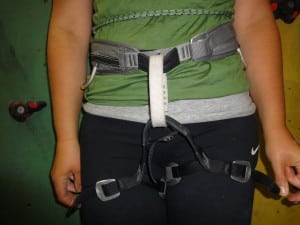 The common feature for whichever harness you choose is that it must fit correctly and be comfortable. When you try a harness on, always fit the waist first and leave the leg loops loose.
There are two types of buckles, the Ziplock which is now the most common buckle on new harnesses, which is already correctly fastened and only needs a pull on the strap to tighten, but still needs tucking away through the loops on the waist belt, and the double backed buckle which has to be threaded and then doubled back to be safe.
Once the waist belt is secured you can then adjust and secure the leg loops. A good way to ensure the harness is tight enough is to slip a flat hand through the waistband, make a fist and if you can pull it back out the harness is too loose.