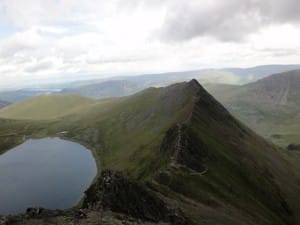 A day on Helvellyn with two aspiring scramblers began at the base of Mires Beck, next to Glenridding campsite . It was a steep but beautiful ascent, with clear visibilty and amazing views. The aim of the day was to give Gemma and Ross confidence to become independant and more adventurous scramblers. Striding Edge came into view, the higher we ascended, cutting through the atmosphere like a knife. The steep sides falling away to each side.
Gemma began to get nervous; she had a knee injury that was affecting her confidence, a possible miniscus ligament tear. We took it slow and easy, Ross taking the more adventurous and exposed routes,  and Gemma varying her route depending on her confidence and the exposure, with me only a step away. As we ascended higher along the ridge, both Ross and Gemma began to relax and Ross began to take over responsibility for Gemma's welfare, encouraging her, spotting her on difficult sections and suggesting harder sections for her to try. Striding Edge is over a kilometre in length and gains over 200m within that distance. The final section is even steeper and in places scrambling becomes climbing and even the most experience walkers begin to struggle, but Ross and Gemma found it fun and by the time we reached the summit they were exhilerated.                                    
Helvellyn Summit 949m

The summit stands at 949m and the views over the Lake District were stunning, but for Gemma the worst was still to come, the descent, where her knee gave her the greatest discomfort, but she was well prepared with walking poles, a knee support and Ibuprofen, or Vitamin I as it is known to ageing climbers – me included! We took our time, spotted Gemma when necessary, admired the view and let her move at her own pace. The descent went well and we actually moved at a good pace. We were soon in The Ramblers Arms enjoying deliciously cool pints of local cider, reliving the day and planning their next adventure – Crib Goch in North Wales. Watch this space!