I first met Art at Symonds Yat on 8th June. I was guiding a young woman who was learning to trad lead climb. Art was watching my every move. He'd been climbing before with some army friends and hadn't enjoyed the experience at all. I promised him if he ever booked with Monsterclimbs that I would look after him and hopefully put to rest some of his fears. He subsequently booked a 2 day 'experience' with me. When he met me again, he couldn't believe how petite I was or that I could possibly look after him, but I soon put his fears to bed as we headed to Symonds Yat.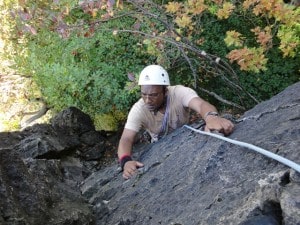 We geared up at the bottom of the route, I showed Art how cams and nuts worked and how to remove them and put them safely on his gear loops. I then showed him how  to lead belay and finally talked about climbing, how to move on the rock, that footwork was essential and that the legs pushed you up the route rather than the arms. I split the route into bite size chunks so that I could see Art at all times, give him lots of encouragement and show him where to put his feet. As the climb progressed he became more relaxed; he was a good student, listening to instructions and didnt have any problems with taking gear out. His only problem really was he didn't trust his feet, even when they were on large ledges he pulled himself up with his arms. This technique is very tiring and Art stopped to rest many times to recover his strength. He did well and though it was slow progress we had all the time in the world. We topped out and Art had to face another fear as he abseiled back to the ground.
Art knew that I could look after him and the second day took us the Central Bay area of Wintours Leap where we took the
easiest line up the face. Again I split the route into small pitches so that I could see and help Art at all times. Despite all he had achieved on day one his fears returned with avengance and he actually froze on the route. Fear is such a humbling emotion, can take you unawares and be quite irrational to others, but with lots of firm reassurance and encouragement, and a bit of help from the rope Art persevered and made it to the top. He actually climbed with fluidity and style at times, especially when he relaxed and trusted the system. I've never seen a man sweat so much in my life! And will Art be back for more. Hell yes.
Thanks must go to Brian and Paul who retrieved a nut from the route and saved me abseiling back down for it.