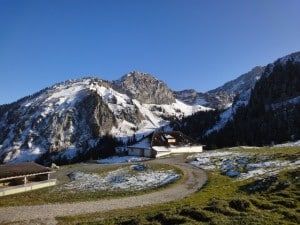 Ali had the great pleasure of being invited to Switzerland by one of her customers (who has just been promoted to a post there), for a long weekend to coach her in sport leading. It was also a great chance to practice her francaise.
Since moving to Switzerland Giada – The Italian Goddess – has not had much opportunity to explore the climbing in the surrounding area due to work and family commitments so it was with great excitement that Ali and Giada flicked through the local guide book looking for suitable venues. The weather was perfect, warm and still, but there was snow on the valley sides so they were limited to low lying south facing crags if they were to get the most out of their climbing.
Their first crag choice was Les Avants at about 600m and south facing with grades from 4 to 7b, and with slabs, faces and overhangs – Giada's least favourite style of climbing . They began with a 4b slab which Giada led with ease. Slab climbing suits her style of climbing and is what she most enjoys, but to be a rounded climber Giada needed to develop her face and steep climbing experience, so Ali began to steer Giada towards slabs with overhanging sections. Many women have problems with overhangs believing they are just not strong enough, but its mainly because they are not using the most appropriate technique. You need to twist so to reach with the right arm you turn the right hip close into the rock and the feet in balance and vice versa. Giada did well on all the climbs, struggling on the overhangs, but gaining ground through sheer determination. They even did a couple of multi-pitch routes, with pitches of 6a+.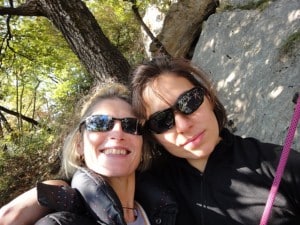 The following day took them to Yvorne, a secluded crag surrounded by vineyards and Chateaux. A bigger venue than Les Avants with many more routes and a bigger range of grades. The routes did seem a bit stiff for their grade and quite polished. Giada got a little disillusioned as she struggled on some of the routes, that appeared to have few holds, but she led a 5a in excellent style and it even had a small overhang.
It is a shame that many climbers top rope the harder routes as they share belays with the easier routes. It explains the polish on what was once an exceptional sport climbing venue and marred Giada's enjoyment.