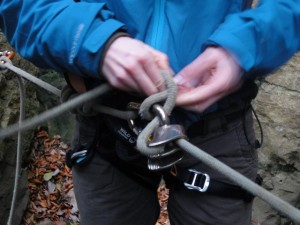 At Monsterclimbs we often get enquiries from Mountaineering clubs and individual climbers concerning 'What to do when something goes wrong?' Of course, the term Improvised Technique, means just that. A lot of clients want to learn 'set pieces' but unfortunately accidents don't happen like that.
At monsterclimbs we 'Taylor-make' courses to suit the clients as climbers who only lead sport or on single pitch crags wont require the same technical knowledge as someone who regularly climbs on multi-pitch routes in remote areas.
We try and build up skills that are relevant to the client, in a safe and controlled environnment before practising on the rock face. One of the first skills, and the easiest, is tying off the belay plate which allows thinking time in the event of an incident. It involves a series of bites of rope fed throught the screwgate karabiner and then back through the rope itself to lock off the belay device so you can work hands free. It is also a very useful skill to learn if you are climbing with someone who is working a route and they are constantly sitting on the rope.
Simple hoists are another technique to help the second over stopper moves, or if they are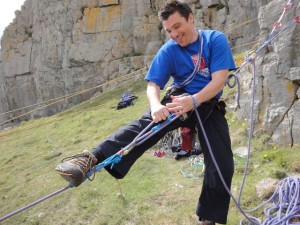 left hanging in space after falling off an overhang, and just involve the very useful French Prussik, and a couple of screwgate Karabiners. The DMM Revolver is quite a useful screwgate to carry within your rack, as it incorporates a small pulley and makes hoisting so much easier. If you are a bit of a lightweight like Ali, you can do the unassisted hoist out of the system, so it is connected directly to the belay and gives you greater freedom of movement enabling you to maximize your weight to assist with the hoisting. In the photo we see a member of the South Wales Mountaineering Club using his foot to push the second prussik further down the rope.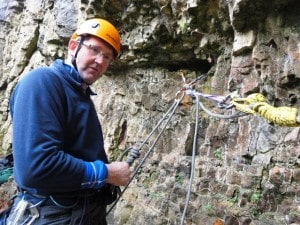 In more serious situations, e.g. the second is knocked unconscious, or is unresponsive and out of sight, or injured on a traverse, you must first escape from the belay (always ensuring you are safe), before deciding the next and SIMPLEST form of action. Often the easiest thing to do is just lower the second to the floor, but this would be impossible on a sea cliff or where there were obstacles in the way and he was badly injured and/or unconscious.
Once you have escaped the system which is achieved by bypassing the belay device with prussiks and slings, you must decide – Do you abseil down to them and apply a chest harness to keep them upright or to apply emergency first aid? Do you set up a counter balance abseil so you can 'collect' them on the way past? Is the rope long enough, or do you have to use a Stirrup Hoist to attach them to you and disconnect them from the rope so you can perform an accompanied abseil?
If you feel you or your climbing club need to acquire some of these skills to broaden your scope of knowledge then contact Monsterclimbs. BUT remember prevention is better than cure and get into the habit of checking your equipment, each other and your belaying technique.