Ali was lucky enough to escape the drab winter weather over New Year with a last minute booking to the Costa Blanca. Giada (an Italian living in Switzerland) flew in from Milan, Ali from Gatwick and they met in Valencia. Arriving late morning they were able to get a few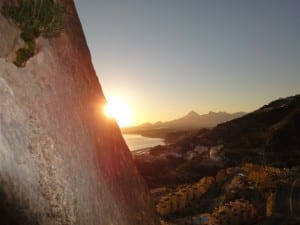 hours in during the afternoon, revising sport lead climbing techniques and getting into the leading mindset on 'real sharp, hot rock'. Giada was nervous and seemed to have lost some of her self belief, reluctant to lead routes that were well within her grade.
Giada had ample opportunity to lead sport routes and to regain her confidence at Toix TV, the Echo Cliffs and Gandia. She also led a few trad routes, which are quite scarce in the Costa Blanca, but plentiful at the Echo Cliffs, and led 2 VS's in excellent style. She also followed a few harder sport routes, the highlight being a clean ascent of Avispilla 6a at Echo 1.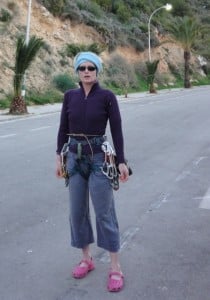 On New Years Day, when everyone else was still partying, sleeping or nursing hangovers Ali and Giada were up at 7 a.m. to head for the Penon and an ascent of Diedro UBSA, the classic HVS. It was originally a trad route, but since the terrible storms of Spring 2008 the Penon was re-equipped and the route is now deemed a sport route. But do not be deceived, if you climb at HVS and you only carry quick draws you're in for a bit of a surprise as the bolts are widely spaced and the potential for hitting something should you fall is quite high. It is also becoming extremely polished. I once guided a very competent HVS climber on the same route and although he found the climbing relatively straight forward he was put off leading it by the scarcity of the bolts. It can be mentally very tiring, doing run out after run out. Some 100′ pitches only have 4 or 5 bolts, but you can carry a rack to supplement your quickdraws.
Giada did well on the 1,000 feet climb, and particularly enjoyed the last 3 pitches, quite a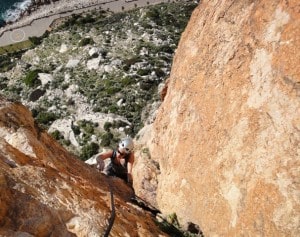 gnarly, loose chimney with lots of threads, an 8m abseil followed by a traverse to the belay, a traverse follwed by a beautiful piece of face climbing on quartz pockets and a final exposed corner that attracts an updraught which usually results in your chalk bag being tipped all over you. The ascent took 6 hours – we went light with only quickdraws, 2 litres of water between us and some snacks, but it is still a good idea to set off early when attempting a big route. The fact that it has been re-equipped does mean you can escape at any time as the belays are good at every stance.
The walk off is quite long and nearly always slippy as the limestone is polished underfoot and often wet from condensation, but very beautiful and leads to the marina. The bars offer delicious cold beer and as it is the tradition to have a beer after an ascent of the Penon, we had a large one!!