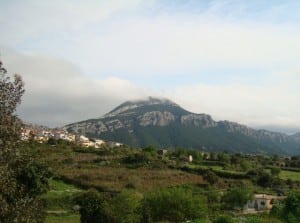 Ali has visited Sardinia several times for both personal climbing and to teach and finds it one of the most beautiful and rewarding climbing areas in Europe. Sardinia is the Italian Island off the west coast of Italy and to the south of Corsica. The countryside is unspoilt and the towns and villages have the character of old Spain with very few high rise buildings but lots of variety of style, colour and orientation. When Ali first visited the island there were few major roads, but with the construction of motorways in the interior it is much easier to get around. It is just as easy to fly to Cagliari as it is to Alghero.
There is sport climbing all over the island and varies in intensity. There are short inland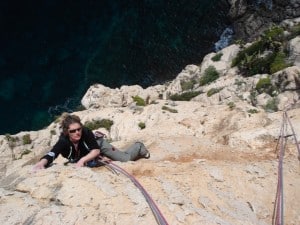 crags, huge sea cliffs often with many pitches and impressive mountain crags that take all day to complete. All the routes are bolted in Sardinia, but the climbers who put up the routes have to fork out for the bolts out of their own pockets, there is no 'bolt fund'. The bolts are often 25 – 30 feet apart on some of the bigger mult-pitch climbs which makes for a great deal of excitement, so it is quite useful to take a small rack of nuts and cams for those moments when the run out is just that little bit too big and your nerves have been strung out too long.
It is a climbing venue that suits most abilities and for the intermediate sport climber who is beginning to spread his wings its perfect. The Cala Gonone area is particularly enticing with 13 different crags in Cala Gonone itself and a further 10 crags in the near vicinity. The best months of the year to climb are April and October, the winter months are too cold – it even snows here and the summer months are way too hot. On the Monsterclimbs Sport Lead climbing course your climbing will be looked at in great detail including lead belaying, leading and clipping and you will be coached on technique and efficiency. You will certainly improve your confidence and may even improve your climbing grade.
Cala Gonone is quite a busy little town with many bars, restaurants and shops, and Dorgali which is just over the hill has a good climbing shop. The nearest major town is Nuoro which is accessible by a local bus service.
Sardinia is an amazing place to climb and enjoy, the flora and fauna is incredible and there are feral and tame goats everywhere you go. Its one place you would never get tired of.
You will be staying in comfortable self catering apartments in Cala Gonone within walking distance of local amenities. If you would like to book a place on the Sardinia sport climbing holiday, or have any questions or queries fill in your contact details on the events page, and  Ali will get back to you as soon as possible.