The Association of Mountaineering Instructors held their AGM at the Conway Centre near Bangor, North Wales over the weekend 11th/12th February 2012. It was an opportunity for AMI members to get together as a professional body and discuss good practice, MLTB courses, Continuing Professional Development and AMI administrative issues. It was also an opportunity for members to take part in the numerous workshops run by highly qualified and experienced Instructors to learn new techniques, keep up to date with coaching skills and share ideas.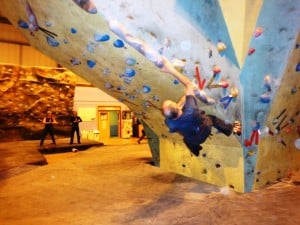 Ali attended the coaching skills workshop run by John Kettle. It was an excellent course where she gained new ideas to coach clients to imporove their climbing skills. It was also an opportunity to improve one's own climbing skills and to learn the latest thinking on what makes an elite athlete – 10,000 hours of practice. There were links to gymnastics and dance, which had always been part of Ali's background, so it was good to get confirmation that her ideas had good grounding.
The AGM took place on Saturday evening, followed by a buffet dinner, a slideshow by James McHaffie and finally a band.
The second day Ali attended a Provider workshop, attended by a cross section of experienced MLTB Course Providers. It was good to share ideas, agree on good practice and make plans for the future of MLTB. An excellent weekend.