Stu contacted Monsterclimbs in the Spring of 2011 to book a course to learn to trad lead climb, but circumstances were against him and time passed by. However, everything comes to he who waits and 12 months later than anticipated, Stu completed a Monsterclimbs trad lead course in the Wye Valley.
After a very cold start to February the weather turned warmer and Stu met Ali at Symonds Yat for two days of instruction. The day began with a discussion of Stu's experience to date and then a perusal of Stu's gear – all very shiny and new!
Clipping an extended cam
Heading down to the base of the crag Ali got a good indication of Stu's movement skills and dynamic balance by how he handled himself on the slippery descent path to the crag.
Once at the crag they immediately began playing with gear, looking at cams and nuts and the hierarchy of gear placements. Stu then constructed his first belay before mock leading a traverse whilst Ali critiqued his gear. He seemed to have a feel for gear placements and had an instinct for good gear outside the usual tunnel vision adopted by beginners.
Ali had enough confidence in Stu's progress to enpower him to lead independantly with a few preplaced pieces of bombproof gear, and with the belay already in place. Stu's first lead was in the bag – calm, confident and assured with good balance and accurate footwork. Ali was impressed.
His second lead had less preplaced gear and was slightly more technical. He hesitated at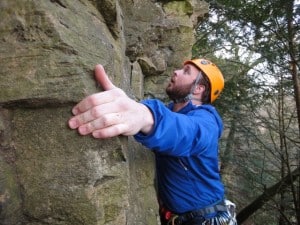 the half way mark when there was no more gear to aim for, but with gentle reassurance and the advice to look for the footholds, Stu placed a cam above and within seconds he was at the belay. His final lead of the day was totally his; no preplaced gear, no belay in place. The route – Trundlebum Rex – Severe. It was a textbook lead, the gear was good, he was relaxed, the single rope in a perfect line. The only wrinkle was the belay, but that was only due to the overkill, he was belayed to three trees, each of which could have held a herd of elephants. With a few tweaks and change of position Stu had the perfect bealy in a position where he could see his second and no elephants in sight.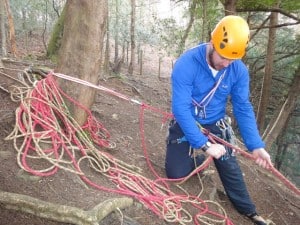 Day 2 concentrated on using two half/double ropes to lead on, a completely new concept to Stu, but the standard way to trad lead climb.They looked at belay construction using double ropes and moved quickly on to leading. Stu took to double ropes like a duck to water and his rope work was excellent – creating two perfect straight lines. This was probably due to the quality of the student and the excellent instruction!!!!!
Moving to Bowlers Hole area, Stu lead Nansens corner, which he did in excellent style.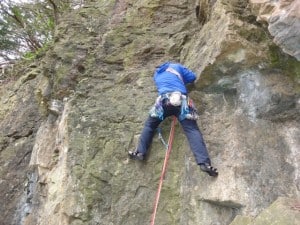 Ali's only concern was the lack of nut placements. Stu had become so comfortable with placing cams that he had vetoed good nut placements in order to place cams. Stu was then 'encouraged' to lead it using nuts only and the cams were confiscated! His ascent was more thoughtful and the footwork precise and accurate. A good result.
Stu – 'Thanks a lot for teaching me. It was a great couple of days'.
Stu is now in the process of purchasing his first cams. Ali has created a cam monster!