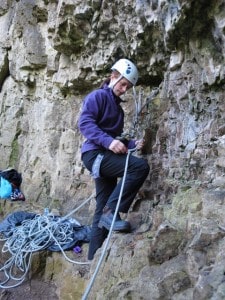 Ali met Kat – a poledance instructor and Andy – an Officer in the Army, on an introduction to outdoor climbing in the Peak District in September 2010. They were both keen to learn more and plans were made, but time and injuries put paid to best laid plans and it wasn't until early March 2012 that they all met up again.
Initially Kat and Andy were a little timid, they had a selection of new gear, had used it but didn't know what to do when they got to the top of a route so had previously down climbed. The first task, then was to look at placing gear,building belays and how to belay to bring the second up.
Ali was impressed by how quickly they grasped the concept and were quite ingenious in placing less obvious gear. Both Kat & Andy became more confident in their own gear placements and it was soon time to lead.
Andy using a natural spike
On the first route Ali placed a couple of pieces of  bombproof gear, but this proved to be unnecessary and subsequently they led on their own gear with Ali close by to offer support and encouragement. They had the opportunity to set up abseils in a safe and environmentally sound way and the day finished with them both leading a climb of a harder grade – to inspire them to use their feet and body position more effectively.
Kat and Andy took advantage of the B & B facilities on offer with monsterclimbs – in their own double room with ensuite facilities, which gave them an opportunity to view the pictures of the day and see their footwork, body position and how well they used their legs. Kat, as a pole dancing instructor is incredibly strong with good core muscles but could see that the weight was often on her arms because of her body position, which gave her focus for improvement the following day.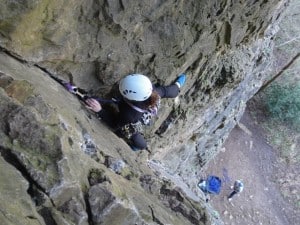 Kat warmed up on Golden Fleece which she led beautifully, concentrating on all she had learned the previous day. She was calm, balanced and completely centred on the task in hand. She belayed at the tree and because of the difference in weight, Ali showed Kat how to use a guide plate in guide mode, as a direct belay – so if Andy fell, or needed to rest all the weight would go onto the belay.
As Kat and Andy were doing so well, Ali decided it was time to up the anti by putting them into a multi pitch situation where they could combine all their skills. Andy led Exchange VS 4b and built a belay using a cam and nut equalized, with a threaded and jammed nut. He then brought Kat up to the belay, where he made her safe so they could rearrange the gear and Kat could lead through to the top.Once Andy had landed, they traversed the top of the cliff, – to avoid the rope spaghetti created by another climber abseiling off!!!!! ( he'd thrown his ropes down on top of the trio earlier without looking or shouting 'below'), where they set up a SIMPLE abseil, backed up with an extended belay device and prusik attached to belay loop.
Excellent body position
Their final climb gave them the opportunity to look at hanging stances. Andy led with the sun cheering him on, looking confident and composed. He wasn't too happy about the hanging stance and was reluctant to trust the belay, and once he did he wasn't comfortable and found that his legs were going dead – but apart from that he was ecstatic – that's trad climbing for you!!
'Thanks so much for this weekend, we really enjoyed it and are looking forward to getting some climbing experience under our belts. We certainly feel a lot more confident!' Kat Wynn and Andy Johnson.
Check out Kat's website: www.kwpolefitness.co.uk