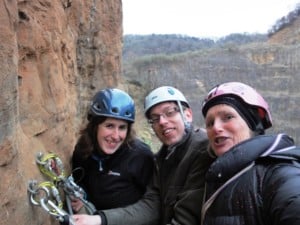 The Wye Valley is most famous for its beautiful walks and its incredible trad climbing venues; Wintours Leap, Wynd Cliff, Shorn Cliff and Symonds Yat, but there are several sport climbing areas including Ban-Y-Gor, Wynd Cliff Quarry, Woodcroft Quarry and Tintern Quarry.
The location for Hannah and Richards first venture outdoors was Tintern Quarry that some describe as a big hole in the ground – which it is. But, and it is a big butt, it does offer an excellent teaching resource in that the 30 foot wall is short and not too taxing with many easy routes of French grade 4. The top is accessible so that when teaching, the instructor can run round to check the rope work of the client and that they are safe at all times.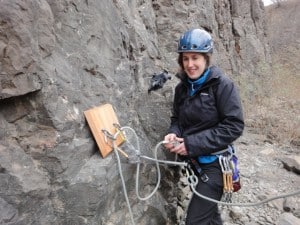 Hannah and Richard followed their first route – Star Ship Trooper 5+, to give them a feel for limestone and the difference from climbing indoors. It is much harder to see the holds and to read the route. Both did well, although they initially found it difficult to trust their feet on such relatively small holds. By making sure their weight was over their feet, they were able to take most of their weight off their arms and found the climbing much less strenuous.
Before leading their first route, Hannah and Richard needed to learn how to safely thread the belay in order to retrieve their rope, which Ali does on the ground using a handy teaching aid – which weighs a ton (although Ali didn't carry her rucksack down to Tintern, as Richard, gentleman that he is, insisted on carrying both their rucksacks and the rope!!!!).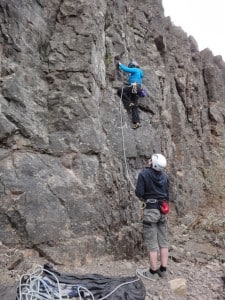 It enables clients to practice making themselves safe, untie, thread the belay and retie as many times as they like without the added stress of being above the ground, and once they lead it is much less daunting as Ali is directly above them ensuring correct technique.
They both led three routes of grade 4. With each route their footwork and balance improved and their confidence grew as a result. Hannah took her first outdoor leader fall and received a lovely bruise on her knee which didn't faze her at all.
The day concluded with an abseil off the stance of Upper Red Dust Wall as neither Hannah nor Richard had ever abseiled before. Ali ensured they knew what to do with either a single or double ropes and that the abseil was backed up with an extended belay device and prusik attached  to the belay loop.
'Thanks for teaching us, we had a great time and thanks for taking lots of pictures. We just need to get out practising now.' Hannah Carter