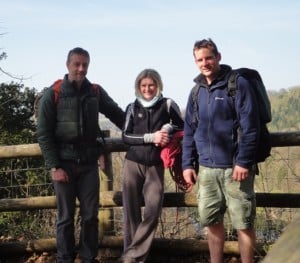 Dave and Dean arrived at Symonds Yat in the Wye Valley ready for the two day trad lead course. They had a 60m rope, quickdraws, a set of DMM wall nuts and a large amount of 'dread and fear'. Ali  promised she would look after them.
The Gloucester boys had experience of sport climbing and bouldering, indoors and on rock, so they were quite strong and had good technique which was an excellent start but hadn't handled trad gear before, although they did have their own nuts! Ali explained how to use spikes, threads, nuts and cams and they were soon building belays and looking at how to belay from above, which they found awkward.
As their confidence in their placements grew, they took the logical step and began to lead for real. The routes were easy angled giving opportunities for good balance and lots of gear. Both Dave and Dean suffered from beginner's dropsy with nuts and cams disappearing down the slope, all recovered thank goodness.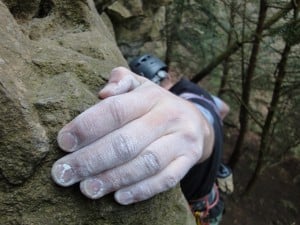 Dave had a tendency to hold onto the gear whilst clipping it, but once the error of his ways was pointed out and the potential for a serious fall should the gear fail, he made greater progress.
The Gloucester boys put into practice belaying from the top and realized the effectiveness of this awkward technique. It is not often that you find a comfortable position, but it is imperative that the belayer NEVER lets go of the dead rope. They also learnt how to protect an abseil and finished the day with a more challenging climb.
The second day brought sunshine but freezing temperatures (Dean was in shorts!), the friction on the rock though was excellent. Dave kicked off leading the 80 foot Golden Fleece on double ropes, made himself safe and brought Dean up. They then managed the ropes to create an abseil. Dean abseiled first protected by a prusik loop, and then ensured Dave's safe abseil by holding onto the ropes at the bottom. If Dave had let go, all Dean had to do was to hold onto the two ropes to halt Dave's descent. Cool!
Dean then led the first pitch of a 2 pitch route, Exchange, built a belay using nuts and brought Dave up who led through to the top and both abseiled off. It was at this point that Dean asked the time. Dave, who is a Doctor of Philosophy replied 'Well, it's a lot later than it was earlier.' Profound!
They moved to the Bowlers Hole area, where the Gloucester boys had the opportunity to lead more routes. But all too soon the course drew to an end and it was time to part.
They were excellent students who overcame their fears and put everything into the course. They were composed, balanced and placed good gear. Until you learn to trad lead climb you don't realize how mentally draining it is and they were both decidedly tired by the end of the day but satisfied with their progress.
'Really enjoyed the course. Felt less fear/more comfortable on the second day. A really valued experience. Lots to think about too.' Dave Webster
'Thanks Ali. I enjoyed the course and I'm looking forward to getting out there now!' Dean Lucas