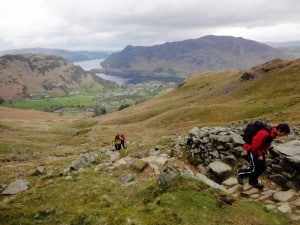 It has become a yearly pilgrimage  for the Donabie family to book a weekend in the wilderness with Monsterclimbs. Twice they have been to Snowdonia, climbing, scrambling and hiking, but this year Tracie, Neil and cheeky little Jay ventured further afield and headed for the Lake District.
Arriving early afternoon at Gillside campsite at the base of Helvellyn in the pouring rain they prayed for better weather. After making tea, the clouds vanished, the sun came out and the tents were erected in dry conditions. After a quick look round Keswick, all the shops except Booths were shut, they headed for a local pub, dinner and an early night ready for the adventures of the following day.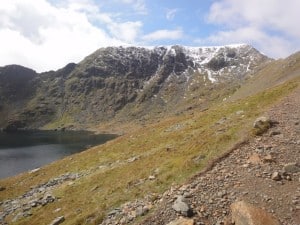 Up at 6 a.m. the group were ready at 8 and set off up Mires Beck and the long slog up to Helvellyn only 3 miles away – all uphill. Dark clouds billowed above their heads, with glimpses of seductive blue sky, but at the base of Striding Edge the temperature plummeted, the heavens opened and they were deluged with rain, hail and snow. Waterproofs were promptly adorned and the disheartened group with Ali in the lead headed across the valley to Red Tarn. Before long out came the sunshine and dried up all the rain, and incy wincy Donabies climbed Swirrel ridge this time.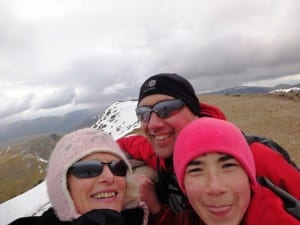 It was hard going as the higher they climbed the more wintery the conditions became. Tracie decided she'd had enough 200m from the summit, so leaving her wrapped up in a kisu with all the gear Ali, Neil and Jay struggled on to the summit at 949m. They could see Tracie from the summit and although several handsome chaps attempted to whisk her away with tempting offers of coffee and sticky buns she remained firm and an hour later they were all reunited. There were several snow ball fights and fisticuffs on route which added to the fun and the weather continued to dash from season to season.
Eye spy kept the group entertained on the long descent, with such gems as dmw -disused mine workings, polrfw – path of least resistance for water! and pls – pedantic little soandso.
The group were rewarded for their efforts back at the campsite with lashings of hot tea and long hot showers followed by dinner in the White Lion in Patterdale.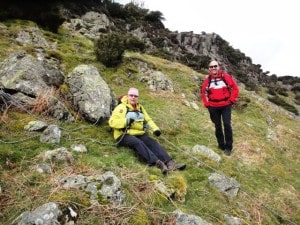 Sunday was a much gentler day in all respects; walking, weather and distance. The group took a gentle stroll around part of Ullswater and then practiced simple rope work techniques to safeguard tricky scrambling situations using slings, the Italian hitch and waist belays.
It was sad to leave such a beautiful place, and even though the weather was a little cruel at times it just added to the adventure and gave it greater substance. It was a great weekend, full of fun and learning and as Ali remarked 'not like working at all'.
'Thanks hun. We love our weekends away with Monsterclimbs. There are well words, I just can't express what I feel. I don't want to go to work. I actually wish it was Friday and I could do it all over again. Love you loads.' Tracie Donabie