Ali had met Alan 12 months previously whilst he was on a management course in the Wye Valley. He thoroughly enjoyed the climbing tasks and wanted more. A year and several emails later a date was set for a 'Boys Day Out' at Wintours Leap.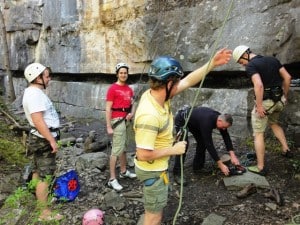 They arranged to meet at The Rising Sun at 9.30. Matt and Mike arrived in a flash Audi at 9.45, pronounced they had no money and drove off with the assisstant instructor to visit Tesco's cash machine. At 10 a.m. Alan arrived with Nick and James, all nursing severe hangovers. They had plenty of water but no food, so they went off to Tescoes to buy some. The Audi boys returned with money, but they had no food either so had to ring Alan with their requirements.
It was as the guys all grouped together to head for the crag that Ali realized James was wearing flip-flops and only one NUT had a rucksack. "You did pass on my email about requirements for the day" Ali inquired. NO came the unanimous reply.
With a bit of organization they all managed to pack gear in the 3 rucksacks and carried the ropes Alpine style. By the time they arrived at the base of North Wall all the easier routes were taken, but Ali set up ropes on the first pitch of Right Hand Route and Neibelheim.
Nick was overcome with the effort it took to get his hungover body to the top of Niebelheim and spent several minutes throwing up in the bushes. Nice!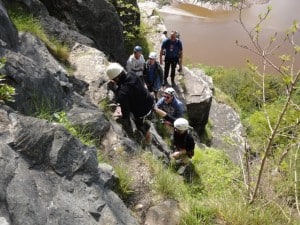 The Nuts had a range of ability, but they were all given the opportunity to climb a number of routes with varying degrees of success, but they all completed at least 2 routes. The finale was a scramble up the 'Easy Way Down' which got the adrenalin going. The atmosphere of the day was incredible, the banter non stop, the laughter constant AND the weather was beautiful.
'Our distinct lack of preparation, hangovers, inappropriate clothing, sat nav errors and general poor fitness levels could not diminish what turned out to be a fantastic days climbing. The tuition was pitched just right for five blokes in their late twenties/early thirties who think they know everything – banter by all to match! Ali and Andy's patience, expertise and sense of humour shone through, and we conquered the rocks and cliffs she laid out for us. Tailored to our specific skill levels (which were varied) and blessed with a cracking day, we'll not forget it in a long time! Thanks – top drawer!' Alan Sheppard