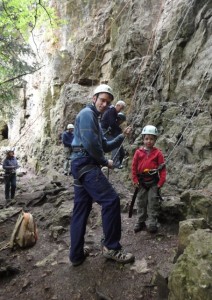 Being a Bank Holiday it was imperative that Ali got early to the venue to set-up the climbs for her customers. The car park was deserted when she arrived at 8.15 – perfect! By 9.30 when Ali met Stuart Nelson and his family and friends the car park was heaving with walkers, climbers, Instructors and their clients. With 5 adults and 5 children (all under 8 years old) to entertain, the group headed for the Blue Spot area of Symonds Yat.
The approach to the crag was very exciting as the rain the previous evening made the slope slippier than usual, but everyone arrived in one piece. All part of the adventure.
It was the first time the little ones had climbed outside so was a bit of a shock and they did find it a bit daunting. They all had a go and Rosie climbed all the way to the top and got a round of applause for her efforts.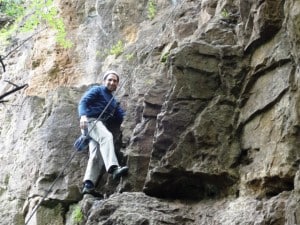 Their parents – Manda, Dish, Matt, Stuart and Graham really pushed themselves and made determined efforts to succeed on all the climbs. Stuart was like a man possessed and couldn't get enough. He had to be pried off the rock in the end and led away. Ali doesn't think it will be long before he's back for more.