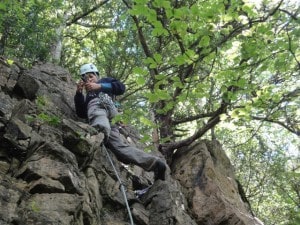 As an ambulance driver coming from London, Susanna Taylor took advantage of the Bed & Breakfast facilities at Abbey Mill with ensuite. Quite new to climbing, Susanna has led regularly indoors and led some sport routes outdoors, so it was a huge step for her to take a trad lead course in the Wye Valley with Ali and Monsterclimbs.
She quickly grasped the concept of placing gear, building belays and getting used to doing everything one handed. She was soon ready to tackle her first lead on trad gear. Ali preplaced several bombproof pieces and Susanna filled in the spaces with her own gear, which was subsequently checked by Ali. The cams were good but Susanna needed to seat her nuts as they lifted out a little too easily.
It wasn't long before Susanna became confident with the gear and was placing all her own gear on the lead. She climbed well and had good balance, but her climbing shoes were worn at the toes and a bit too comfortable. She did admit she had a new pair at home but weren't quite worn in! Shame on you Susanna.
Susanna learnt how to belay from above and bring up her second, as well as how to construct abseils, descend safely and recover the rope. She also learnt how muddy Symonds Yat is after it has rained.
Susanna was an excellent student and is looking forward to her next trad climbing experience.'Thanks for everything. Glad I made the journey.' Susanna Taylor