The Pinnacle club was established in 1921 by the founder member Emily Pat Kelly, who was always encouraged by her forward thinking husband Harry Kelly. She was keen to promote all women ropes, believing that climbing exclusively in mixed parties hampered and restricted the development of their own climbing powers. And so 91 years on The Pinnacle Club is still a women only club whose members are united by a shared enthusiasm for climbing.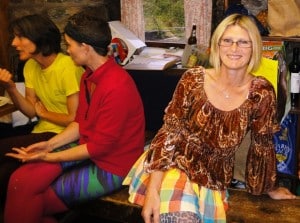 There are regular meets – around 30 each year, as well as joint meets and The Pinnacle Club have reciprocal hut agreements with other climbing clubs in the UK. They also have their own hut – The Emily Kelly Hut at Cwm Dyli at the base of Snowdon where Ali spent the weekend as a prospective member at the Presidents meet. The theme of the weekend was the 70's and 80's era and there was a lot of psychedelic lycra, but only one pair of leg warmers – worn by Ali and teamed with her leopard print tights! Nice!
The weather wasn't at it's best and Ali spent Saturday at the new and exciting Beacon Climbing Centre near Caernarfon. She climbed with Sharon Jones, another prospective member, where thay had great fun. Others did venture out: one group climbed on slate but were rained off, and another went to Carreg Hylldrem. Others roamed the mountains and had an incredible, if rather wet day.
Ali headed to Carreg Hylldrem with Hilary Lawrenson on Sunday driving Sharon's Ferrari (Rover 100). Ali knew Hilary from the early 90's when her then husband Malc Taylor was on the BMC guidebook committee. They climbed the Hylldrem girdle traverse, a 4 pitch HVS 5a, leading alternately,  which was dry and the sun actually shone throughout their ascent, which was extremely pleasant.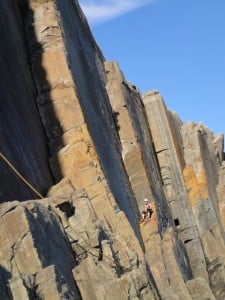 This was Ali's second Pinnacle meet, the first was at St. David's in Pembroke where the weather was fantastic. Ali climbed with Ann Blanford – member, and Roslyn McKendry – prospective member, at various crags in the area  including Carreg-y-Barcud, Craig Caerfai, Porth-y-Ffynnon and Porth clais. The highlight for Ali was leading the poorly protected thin crack Starlings by the Seaside E2 5b.
If you are interested in becoming a member or would just like to attend a meet check out the website www.pinnacleclub.co.uk. It's a great place to meet like minded ladies who climb and I have always received a very friendly and warm welcome and hope to become a member in the not too distant future.