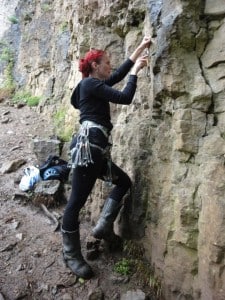 Ellie lives in a Ford Transit van, travels to and works at festivals, has bright red hair and is one of the most interesting people Ali has ever met. She has a love and passion for life and is very much a free spirit.
Ellie had no real experience of climbing. She met Ali at Symonds Yat with her friend Dan, who seemed a little apprehensive about leading, so Ali offered to put a rope up on Golden Fleece using their rope and gear. Ellie followed it twice and decided there and then she wanted to become a climber and do it properly and booked a course with Monsterclimbs.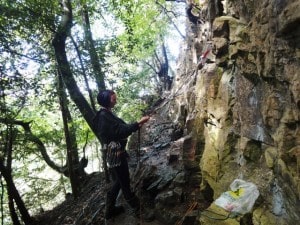 Their first day was wet and unpleasant to say the least, but it gave Ellie the opportunity to place gear, build belays and learn how to lead belay. She followed two routes but Ali thought it too risky to allow a complete novice to lead on such treacherous rock.
Thursday dawned bright and sunny and although it was still muddy underfoot the rock was dry and the friction excellent.
An abseiling lesson was first on the agenda. Ellie had never done it before, but set it up with guidance from Ali. Ali went down first, with Ellie on a stacked abseil to safeguard her descent.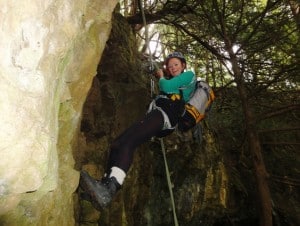 Ellie has a very calm exterior, listens intently and is able to execute whatever is asked of her. You wouldn't believe how nervous or apprehensive she is inside. Ellie is one very determined lady.
Ellie soon got to grips with leading with a few pieces of preplaced gear to give her confidence and have something to aim for. Her footwork was good and she adjusted her body position for optimum balance.
With 3 leads under her belt they returned to the route where it all started and Ellie led Golden Fleece HS 4b. She had one little 'moment' where she felt like she was going to fall off, but she was in a balanced position with a good piece of gear at chest height and after a little calming encouragement from Ali she relaxed and surmounted the small bulge that had deterred her.