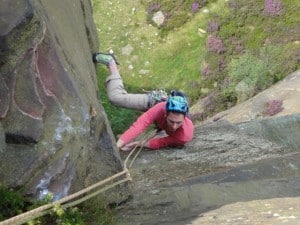 I decided to take August off from Instruction. June and July had been very busy and I had little opportunity to go climbing. My first outing was with the Pinnacle Club in Pembrokeshire and we were extremely lucky to have the most gorgeous weather and to climb in areas I'd never climbed before.
My trip to North Wales to the Presidents meet with the Pinnacle club wasn't so fortuitous with the weather but it did give me the opportunity to climb at the new Beacon Climbing Centre near Canaerfon. The route grades were a bit stiff but it was pretty impressive with routes of 17m. On Sunday Hilary Lawrenson and I did the Hylldrem traverse, and the sun shone on us for the duration of the climb – a lucky break.
I then dragged my friend Jeremy to the Peak District for a couple of days on grit visiting Millstone, Lawrencefield and Stanage. I tried Suspense at Lawrencefield but got spanked and fell off the crux a few times before I took my cam protection out and stuck 2 fingers in the crack to do the move. Stanage was awesome and I led a couple of classics – Retroversion and Cave Arete -the latter quite challenging for a shrimp like me and given a higher grade for the short – I took it!!!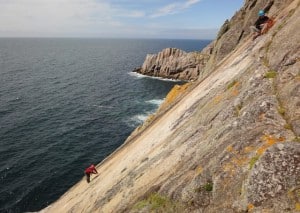 I spent a week in Lundy with The Climber's Club, of which I am a member, and got on very well with the Vice President! I climbed with Rich all week and  reaped the benefit of his long association with the island. I led many of the classics – Double Diamond, Satan's Slip, Nonexcpectis Jugisimus, Indy 500 and The Black Hand. The weather was good for some days and atrocious for others. We had to find other interesting pursuits!
I spent a few days in Swanage with Roslyn who I met at Pembroke on a Pinnacle meet. She too is a prospective member but is a very experienced and accomplished climber. Swanage had the best forecast in the UK and we had an amazing window of weather. We did the awesome exposed 2 pitch route Tudor Rose and I led Juggler, probably a grade harder than that suggested in the book with its tiny holds and delicate climbing.
Our visit to Swanage ended tragically when we tried to rescue a fellow climber who had fallen, ripped his gear, hit the cliff and ended up in the sea in a high swell with the tide going out. Despite our efforts he died at the scene and reminded us both how unpredictable and potentially dangerous climbing is.
A sobering end to my Summer of Fun, but it is also a reminder of how fragile life is and that we must live it to the full. Climbing is a beautiful and enigmatic past time but it is not to be undertaken lightly. Most of the time nothing happens, but when it does it usually ends badly and all we can do is mourn the departed, celebrate their lives and learn from the experience. Ali Taylor