Saturday was a glorious day, bright clear skies with stunning sunshine, but GOSH it was cold.
Matt and Paul had diverse backgrounds – Matt coming via a trad/sport leading route and Paul from scrambling with a lot of experience in the mountains. Together they made a great team and could learn a lot from one another. After a consultation and decision about gear and ropes they all headed for the crag where Matt and Paul demonstrated what they knew about gear placements and building belays. Ali was able to improve the quality of what they termed 'good gear' and seated gear and introduced them to the camp nut. She was also able to make their stance management more efficient and practical.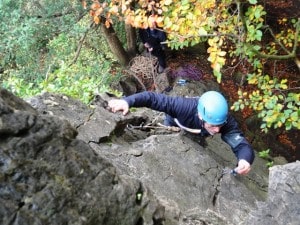 They both had the opportunity to lead, bring up the second, abseil and follow routes in practice for the big day Sunday when they would be leading Snoozin' Susie a very popular VD. Both did extremely well. Matt looked comfortable, climbing well and placing gear with good balance. He gained in confidence as the day progressed, as he learnt more, put ideas into practice and reinforced what he already knew.
Paul initially was quite nervous. Although he was used to very exposed situations, being on Crib Goch for example in gale force winds. This was a different, unfamiliar experience which was beyond his immediate comfort zone. Ali gave him lots of encouragement and ensured all his gear was well placed and he was in a good balanced position when placing it. As the day progressed he became more confident and less panicked. He was often looking for good hand holds and Ali was able to alter his focus to good footholds so that his weight was always on his feet, essential in climbing and especially for trad leading.
Sunday was another day. Matt and Paul were to lead Snoozin' Susie in 4 pitches on double ropes, alternating the lead and putting into practice all they had learnt. The weather threatened all day and by the end of pitch 3 it was actually raining and quite chilly. Ali led each pitch to the stance, placing a couple of bomb proof pieces on route, made herself safe then dropped the ropes so she was always close by to give encouragement and advice and to ensure safe belays and good stance management.
It was a solid ascent, with good team work and the second always supporting the leader. The higher they climbed the more relaxed they became and both exclaimed how much they enjoyed it, in spite of the rain. Each critiqued the others gear and felt confident in 'going it alone'.
Another successful trad lead course with two more satisfied customers.
'Thanks for a great weekends instruction. I found it very informative as well as being fun. On reflection and from your words of encouragement I will definitely continue to climb and will go back to Symonds Yat and redo the routes.' Paul Thompson
'I had a fantastic couple of days. Ali is probably the best instructor I have met, she pays such attention to the techniques and skills needed to stay safe, but at the same time having such humour, an enjoyment of the surroundings and the brilliance of climbing outside. The climbs that we did built up our confidence and then the final climb was just brilliant. A true star.' Matt Wyatt