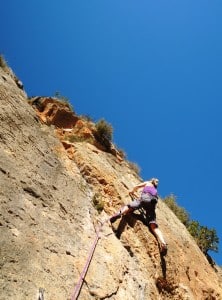 Leaving behind the cold and miserable weather of the UK, Ali embraced the 14 days of wall to wall sunshine in the Costa Blanca and climbed her socks off. Spending Christmas and New Year away from home felt surreal but the weather and the rock made up for it. She visited the usual crags and with members of the Climbers Club was introduced to some new areas. Pena Roja gave some incredible long and sustained climbs including Liberpool at Spanish 6b. It's actually quite polished and never eases up so is probably a tad harder than that. La desarrugada was also good value for money especially in the heat of the day.
Another area new to Ali was Alkalali with some brilliant pitches on perfectly pocketed rock. Two visits to Gandia led to the discovery of Topdeckio – a seldom visited crag by anyone as the access is a little further uphill and a more strenuous approach, but well worth the effort as the rock is pristine, steep and exciting – some of the bolts being a little oddly placed and spaced.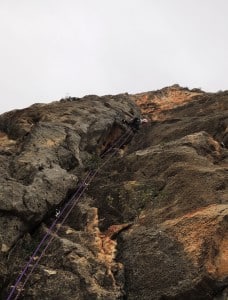 The highlight of the trip for Ali was leading the multi-pitch trad E3 5c Diedro Edwards at Echo 2. Psyching up for the crux pitch she cruised it without pausing for breath – that's what psyching up does for you. However, it turned into a longer route than expected as the ropes jammed and Ali had to shunt back up 2 pitches – 200′ of climbing. Typically it was a twisted maillon that caused the problem and was easily solved. It is always worth checking that the ropes will pull before the last person abseils!!! Still, Ali got two more pitches in!!! You can never have enough climbing.
All too soon the days ran out as well as the rubber on Ali's Boreal Crux's – they didn't make it back – and it was time to head home. It rained the day Ali left and greeted her at Gatwick too. At least her spirits and body were refreshed by the smiling warmth of the Spanish sunshine. Hasta Luego!
If you want to experience a climbing holiday in Spain or Sardinia, or require any information, don't hesitate to contact monsterclimbs.