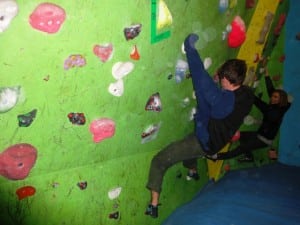 One of the things that I find so enjoyable leading the Climbing Wall Award is meeting enthusiastic and diverse candidates. Their ages ranged from 17 to almost 40, and their experience from very little indoor climbing to worldwide multipitch. The candidates: Ollie, Karen, Jo, Martin, Elliott, Nick, Gary, Max, Dave and Dan approached the course with open minds and a willingness to share ideas and try out new ones. It was refreshing too, for the most experienced to discover new things to learn and better ways to belay.
Problem Solving
The two day course, based at Undercover Rock in Bristol, covered the remit of the CWA, technical competence including belaying and personal climbing, managing strategies with groups and background knowledge. Movement skills and coaching make up 25% of the course and candidates have to learn how to problem solve whilst still managing their group in a safe manner. Problem solving took place at the secondary wall at the University of West England and involved techniques from the very simple to the more complex.
The CWA is a national award and enables instructors to manage groups at indoor walls throughout the UK in bottom rope climbing techniques. If you are interested in becoming an instructor contact Ali or look on the Mountain Training Board website for further information.