Portland is a great place to go sport lead climbing at any time of year, but it is especially good when the weather is pants everywhere else. It seems to have its own microclimate. So…. it's the second week in February the forecast is good which led a couple of trad mates to drive down to Portland and clip some bolts.The weather was perfect (once it stopped raining……) and in the sun it was warm. In the shade it was chilly. No competition then.
The intention was not to beast themselves but to reawaken and warm up the muscles from the winter of discontent and hibernation.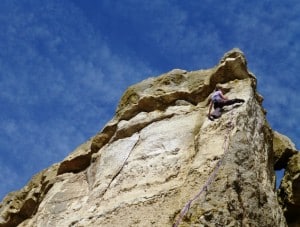 A plethora of 6a's – Cinema Paradiso, Meg's Got Leukaemia, Grease Paint and Monkey Brains, Garden Party, Dreamscape, Shit Happens Actually, Monsoon Malabar and Mother's Milk entertained and sustained motivation. Some were trickier than others but all of them tickled the fancy and gave varied  and interesting climbing.
As a word of warning the persistant and continued rain over the last 12 months has caused landslips, the coastal path to disappear in places, rock falls and large holes and caves to appear at the base of the crags. Proceed with caution!!
Should you wish to book a sport climbing weekend in Portland don't hesitate to contact Monsterclimbs via the contact form or phone Ali 07814555378.