I knew nothing about Morocco except what I could glean from the new guide book and emails with Paul Donnithorne. You have to plan your gear for something big, but nothing could have prepared me for the sight of endless valleys of unclimbed rock.
The Anti Atlas Mountains are south of Agadir, and are divided into different sectors. Although only there for 6 days, Haydn and I managed to visit the Afantinzar Valley, Ida Ougnidif Area, Samazar Valley, Tagzene Area and Tizi Escarpment and climb 4,888′ of rock (which does not include the scrambling off), which worked out at a cost of 10.5 pence per foot.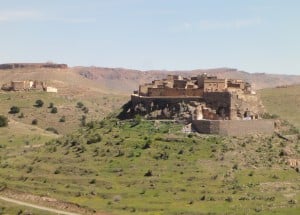 We stayed at the Kasbah Tizourgane near the village of Ida Ougnidif paying about £20 per night for bed, breakfast and a three course evening meal. This rate does vary so it is best to ask at the time of booking – ask about the daily tax too so it doesn't come as a big surprise at the end of your stay.  Most crags are within an hours drive and although the Samazar Valley is quite close as the crow flies, you access it via a dirt road that is almost impassable when it rains. It does look as if they are resurfacing it bit by bit – about 20m sections at a time – the road is 15kms long!!!! It rained just before we arrived and the countryside was green with an abundance of wild flowers.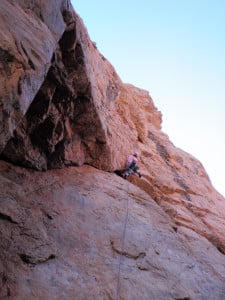 The climbing is incredible, most crags are huge and the pitches often 55 – 60m long. You are encouraged to take a massive rack, but after a couple of days we just took a couple of extra wires, cams and quickdraws. By saving the extra weight we were able to climb efficiently. The rock is generally clean and compact but the route descriptions are often a bit vague and you find yourself on virgin rock.
There is quite a bit of moss on some crags – usually the slabs, and some loose rock.
This area is not for the faint hearted or beginner. It is a serious undertaking and you're not always sure of the outcome. Route finding is tricky and if you do attempt new routes – take plenty of tat and start early – the sun goes down fast at sunset.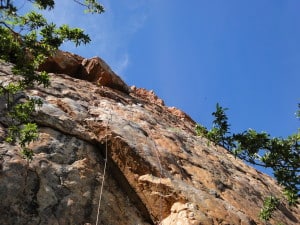 There are a few single pitch crags which have in-situ belays, but the sun is so strong in Morocco that it is worth carrying extra tat on most routes in case the belays need replacing or backing up. Most routes involve climbing to the top of the mountain and scrambling off – usually about 3 times the distance you've just climbed through some pretty vicious undergrowth. High factor suncream is essential as are sunglasses with a minimum 400 UV rating.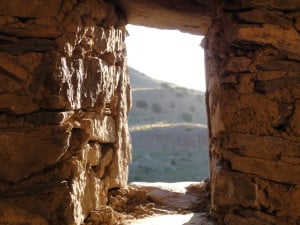 If you would like a guided introduction to the climbing in the Anti Atlas Mountains with Monsterclimbs fill in the contact form or ring Ali: 07814555378. Climbing is available from October to the end of April.