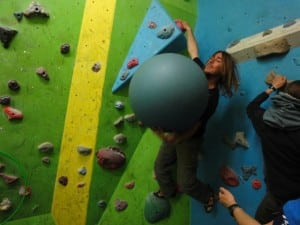 A beautiful weekend in the SW saw Ali directing an indoor climbing course – MT's Climbing Wall Award. The 8 candidates – Jon, Trish, Aaron, Paul, Helen, Hannah, Brooks and Lucas were from very different climbing backgounds with varied experience.
Day 1 concentrated on personal climbing and coaching skills – which make up 25% of the course. They learnt how to lead a warm up, a training session and a cool down appropriate to the client group, that would keep the group safe and injury free and hopefully inspire them to develop their skills in the great outdoors.
Day 2 concentrated on Group Management: how to introduce a climbing session, establishing the ground rules, where to stand, what role to apply, ongoing risk assessment, appropriate belaying and coaching techniques and problem solving.
The course finished with a debrief including 'the next step'. What to do in the consolidation period and what to expect at assessment.
Ali wishes them every success on their first step to become excellent instructors.