I often surprise people when I tell them what I do for a living. They think my job is dangerous and foolhardy but to be honest most people don't understand what climbing is all about, even those who visit climbing walls and learn the basics.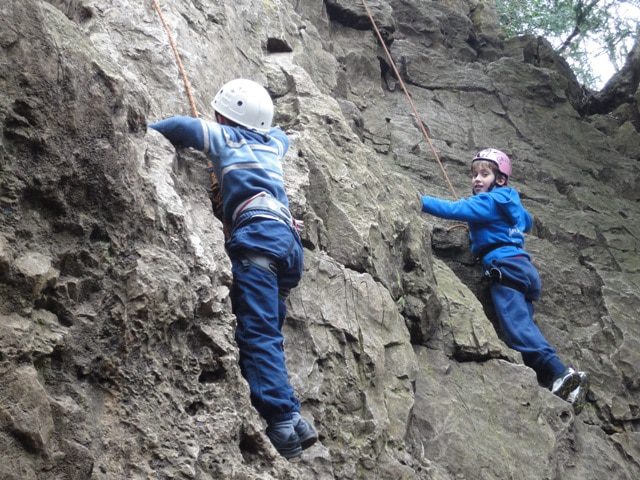 Indoor climbing instructors are generally very competent.  However they may have not done much climbing outdoors, or if they have it's sport climbing. They will teach you the basics, how to put on a harness, helmet and shoes, how to belay but it seems far removed from climbing.
I consider myself a climber first and an instructor second and wherever and whenever I teach I refer constantly to the big picture – the great outdoors. As soon as you are tempted to go outdoors it all begins to make sense
why the harness has to fit so snugly and at the waist – to stay in it if when you climb and abseil.
Why your shoes have to be comfortably tight – to stay on those small footholds that are not coloured and made of resin.
Why belaying is such an important activity – to safeguard the climber, who you sometimes cannot see or hear.
Why we go through this dialogue of climbing calls – suddenly the climber is not standing next to us but is somewhere far up the wall. 'That's me' suddenly has a greater significance – it means the rope is tight on the climber and not stuck in a bush.
But just how dangerous is climbing? Surely it's safer to stay indoors than venture in to the unknown. If you take your introduction to climbing in stages and pay a good instructor you will quickly learn the basics and avoid a lot of the mistakes and pitfalls many newbies fall into – buying the wrong kit, too much kit, poor gear placement and injuring yourself.
Climbing with experience and practice can be a very controlled and safe activity. Too many novices try and race through the grades to gain the Extreme climbs – for the kudos and recognition, but it pays to take your time and work your way up gradually.
Understanding grades and how to read a guidebook also helps. Trad climbing is such a beautiful and free way of climbing. Often the only climbers on the crag (except for Stanage on a Bank Holiday), the trad climber can control the outcome to a certain degree
Is the equipment all in good order?
Is it checked regularly?
Are you wearing helmets?
Is the route within your ability?
Is it well protected?
Do you have the appropriate gear for the route?
Have you checked the weather forecast?
Have you enough daylight to do the route?
All the information you need to start learning to climb from the very beginning to the most extreme climbing can be found in the 'From the Ground Up' series on monsterclimbs website, but you can't beat practical experience with an AMI Instructor with years of experience and continuing professional development. Please contact me if you would like to discuss learning to climb outdoors – safely.