Adam selecting a wire with the help of his teeth
Adam Bradford was a CWA trainee candidate when Ali first met him. Adam, a teacher in Bristol was inquisitive, enthusiastic and a stickler for safety. He hadn't changed since their first meeting, but he had passed his CWA assessment. Congratulations!
Adam teamed up with Tom Breddal for a trad lead course based in the Wye valley with Ali Taylor from Monsterclimbs. The trad rack was a new venture for both men and they quickly got to grips with placing gear and building belays. They soon advanced to placing gear on the sharp end, with no preplaced gear. Adam, with his penchant for safety was meticulous with his gear placements and took the opportunity of the easier grades to place copious amounts. Tom was more interested in the climbing and both Ali and Adam had to bully and coax him into placing more gear so that he became confident in the gear he placed particularly if he was to climb more demanding routes.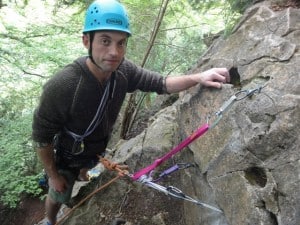 Tom got his opportunity to place gear on more difficult climbs on the second day, and everything fell into place. After leading his first VS, 4b he said he found it 'challenging', but understood why so much time and effort had gone into practicising on more gentle gradients. It was an amazing couple of days and both climbers did incredibly well, considering neither had placed any gear beforehand. Tom and Adam complemented each other and made a good team. The real learning begins now, when they go into the world of climbing independantly and use all their knowledge and skill they have learnt to make their own judgements.
'I had an amazing couple of days climbing with Ali. I had always resigned to never wanting to do trad climbing because it was too scary but with a move to the Alps on the cards I thought I should embrace it.  Ali was a great instructor she really put me at ease and expertly guided me up some really awesome climbs at Symonds Yat.  I can't thank her enough for giving me the knowledge and self-confidence to go away and tackle some trad routes on my own.' Adam Bradford