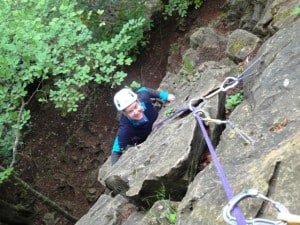 Having had little experience climbing outdoors Ros decided to use monsterclimbs for her first adventure. She wanted to learn as much as possible so she could become a competent and independant second. They took the scenic route in so that Ros could get the feel for Symonds Yat and the type of rock she was going to climb. She quickly learnt how to extract gear using a nut key, how to place it, and even how to build a belay.
She found the climbing much different from the indoor walls she was accustomed to and actually preferred it. She quickly learnt to look for footholds rather than handholds and to place her feet precisely on the holds.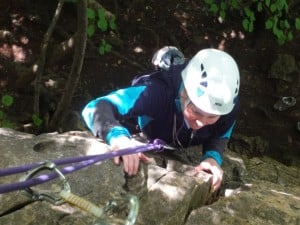 They looked at the difference between single and double ropes; clipping gear, belaying and stance management, as well as uncoiling, coiling and flaking the rope. She also had the opportunity to set up abseils and ensure their safe execution.
It was a packed day and Ros coped well learning all the new techniques. The final route was a little more challenging but Ros was definitely up for it. 'Thanks for a great day. I really enjoyed it and feel like I've learnt loads. The pace was perfect. Now to just remember everything.' Ros Jaeger