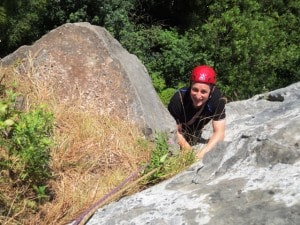 Ali bumped into Alan whilst instructing the three musketeers. It was Alan's first visit to Wintours Leap and he wanted to climb Cental Rib Route 1 that Ali and her team were currently monopolizing. She was able to point them in the direction of Right Hand Route (though they actually did the first two pitches of Niebelheim and the top pitch of RHR) and Zelda. As a consequence of their meeting Alan booked Ali to help with his rope management, stance management and climbing technique – mainly at the insistence of his daughter. Good call!
It was a glorious day and they began by sorting gear and deciding on the kit for the day. Alan had only used single rope technique before so Ali supplied the half ropes for the day to show Alan the benefits on multi-pitch trad climbing. Ali led the firtst pitch of Left Hand Route, showing how gear could be clipped left and right on seperate ropes to keep them in line and reduce drag. Alan led the 2nd pitch in good style and enabled Ali to observe his technique.
They abseiled off by tying the two ropes together with an overhand knot, which took them back to the ground in one abseil.
Alan led the first pitch of Joe's route – always very slippy – and encouraged him to place lots of gear, keep his shoes clean and try and put as much weight on his feet. He belayed on a handy tree and Ali led through to the top. Alan thoroughly enjoyed the pitch and looked forward to climbing it agan in the future.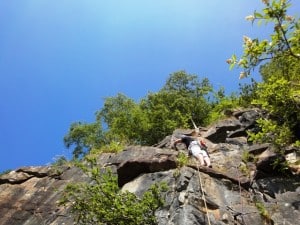 Their final route of the day was Central Rib Route 1, where Alan led pitches 1 and 3. He was encouraged to build belays rather than use the convenient trees. His belay, though very safe was extremely complicated and a little messy and Ali was able to show him how to simplify the belay and make it more time efficient. He was impressed!!!!
All too soon the day came to an end and they finished with a very sweaty ascent of the Easy Way Down. It is fair to say Alan is one of the nicest people Ali has had the pleasure to meet. He was such a pleasure to be with and an absolute gentleman. He also has great heart for climbing and great potential. Ali is sure it is the beginning of a long association.
'Nich and I first met Ali at Wintour's Leap, at the base of Central Route. "I am training on this route for the next 4 hours so you might be better going somewhere else".
It would be nice to say that meeting Ali was an answer to the plan. But stressed, an assertive lady telling us to "go climb Right Hand Route" didn't seem especially helpful.  What else can a man do – the simple pleasures of life reveal themselves in fridge magnet aphorisms: "When at first you don't succeed, do it the way your wife first suggested".
So Nich and I climbed Right Hand Route, then Zelda. Later I learnt we had climbed Niebelheim and were also off route on Zelda. And we had been fine, but a
torque nut pinging out on Zelda had unsettled Nich. Yes, we certainly needed
some tuition.
Luckily, we met Ali at the end of the day and agreed to have some instruction. After all, what else could be better when at your psychological limit on a climb, but an assertive
command. And so Ali & I met again at Wintour's Leap. And it was great! From tying on tidily "what is that?" to a belay "Well the only thing good to say about this belay is it is safe. But so messy. Grade 1 out of 10. I really need a photo of this disaster." Ali gave loads of little tips all day, to cleaning the rock shoes all the time, to good (and bad!) cam and nut placement and rope management. And she introduced me to the joys and advantages of doubled rope climbing. More importantly, we had great fun, some good laughs, and it all felt very safe.
What can be better than to learn new skills, in a lovely part of the world, with a great instructor? Thanks, Ali. Until the next time…..'
Alan