Fairhead Cliffs
I had the opportunity recently to climb at Fairhead on the north coast of Northern Ireland at a joint meet of the Pinnacle Club and the Gritstone Club. There were 8 of us altogether, 2 camped and 6 of us shared a beautiful cottage in Ballintoy.
To get to Northern Ireland you can either fly from various airports or take the ferry from various ports. I chose to go by ferry from Stranraer to Larn, sharing a car with the 2 Gritstone club members. The cottage cost £100 each.
Fairhead is devastatingly beautiful. Most of the cliffs face north, but some catch the early morning sun and some get the sun from early afternoon, but there is a constant northerly wind. The rock is Dolerite, and is volcanic rising in connected pillars 40m plus high giving some face climbing but lots and lots and lots of cracks. If you're good at jamming, or you want to get good at jamming this is the place to go.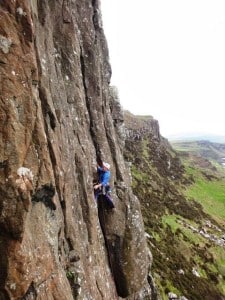 There are some single pitch routes, mainly on The Prow, and they are graded quite tough. I did several of excellent quality – Midnight Cruiser E15b, Railroad El 5b, Fireball E1 5b – which was hard as nails as was Mongrel Fox – at ONLY E15b!! They are all very well protected if you have the energy, stamina and arms to hang on to place it. My favourite route was Embankment E2 5c which I fell off quite high up on a tiny wire and a passive cam, both of which miraculously held. There are multi-pitches aplenty of various grades, but be warned there is nothing easy at Fairhead and the routes especially the multi-pitches are all consuming and time seems to take on a new dimension. Girona VS 4c, Burn Up HVS 5a and Hell's Kitchen HVS 5a were brilliant. Each move on nearly all the routes is a problem in itself and needs time to work it out before the next one appears. Going early in the season is probably not the best time to go as some of the routes were dirty and vegetated but it was quiet. In the summer it may be busy but the routes would be in better condition. When wet it takes time to dry but The Prow seems doable after a downpour once the sun has got on it. And if you find you need a rest day from all the drama, the countryside is stunning, there are lots of places to visit and things to do.