Monsterclimbs is pleased to announce they are now Providers of the Climbing Wall Lead Award.
In order to train for this Award you must first register with the MTE and have already completed either the:
Climbing Wall Award or
Single Pitch Award
Registration is an application process, where your experience of logged sessions as a CWA or SPA, along with your personal indoor climbing experience is taken into account as part of the application process. The minimum pre-requirements for this experience include:
50 led routes
Climbed at 3 different major climbing walls
Belayed a lead climber 50 times
25 lead routes at grade F6a
20 supervising sessions post CWA or SPA
Once you have achieved all of that you can book a training course with Monsterclimbs.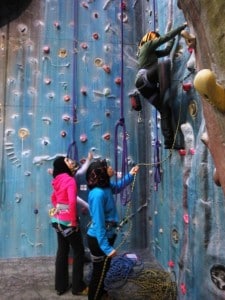 The Climbing Wall Leading Award has been designed to train and assess those who wish to teach lead climbing skills on indoor or outdoor artificial climbing walls and structures with fixed protection. This includes a wide range of structures (including, for example towers and mobile climbing walls) which will be referred to throughout as 'walls'. These structures are deemed to have safety equipment, such as top anchors, in place and are maintained through a management regime. The award is concerned with ensuring good practice when developing leading skills.
It covers the introduction, coaching and on-going development of the technical and movement skills required to lead routes. Completion of a training course, without passing the assessment, should not be considered as a qualification in itself, although it may be of benefit to the trainee. The award includes a measure of personal competence. However, it is not a personal proficiency programme and should not be used as either an entry requirement, or a measure of suitability for climbing on artificial walls.
The award is valid throughout the UK and wherever UK qualifications are recognised. For the purposes of the Climbing Wall Leading Award, a climbing wall is:
An artificial structure, designed for the purpose of being used for climbing activities (this includes towers and mobile climbing walls), with fixed protection e.g. bolts
Indoors or outdoors
A structure which has safety equipment such as top anchors in place and is maintained through a management regime The employer or organising authority must have appropriate management structures in place if they wish to employ CWLA holders for duties beyond the remit of the award.
The Climbing Wall Leading Award does not cover:
the skills to needed to climb and/or supervise others on natural crags and former quarries
multi-pitch rock climbing skills
the teaching or supervision of leading on outdoor crags
the placing of non-fixed protection
the use of high or low ropes courses
the use of ice climbing walls including dry tooling
the assessment of candidates' personal qualities
a Criminal Records Bureau check
Once you have completed training you must fulfil  the requirements of the consolidation period as follows:
Logbook
Record of training course or evidence of exemption
Led a minimum of 100 climbs, at least a quarter of which must be at a grade of 6a or above
Belayed a lead climber on a minimum of 100 climbs
Assisted or observed at least five teaching of leading sessions delivered by a suitably qualified person
Personal profile page completed by a referee
First Aid
Check that your first aid certificate is current and acceptable to Mountain Training
Bring your original certificate to the assessment with you