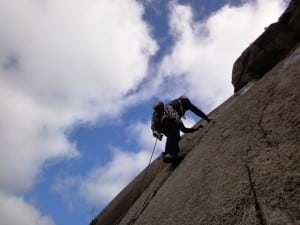 It didn't seem 5 minutes since Ali spent the day with Alan Davies, but 2 months later they were driving north together with Nich Ness to have a multi-pitch adventure in Snowdonia for 3 days.The weather Friday was dry and warm as the trio walked into Cwm Idwal to do Hope, the classic VD. Nich was the less experienced of the two so a little time was spent placing gear and building belays at the base of the crag to ensure a safe ascent. They led alternate pitches with Nich kicking off, but he seemed hell bent on climbing most of the route himself, having to down climb back to the belays on pitches 1 and 3 to as he was enjoying himself too much.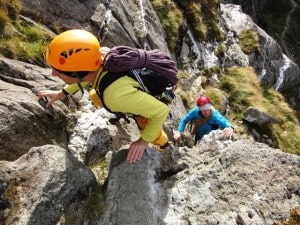 It was a nice introduction to Welsh rock and both the climbing and scrambling off gave them the confidence to push forward.
Saturday was a weird day weather wise. There seemed to be some sort of temperature inversion. The valleys were dry and sunny but the climbing areas were wet and miserable. The early morning was spent in Joe Browns at Capel Curig buying ropes, approach shoes and lots of shiny things. Les trois headed to Tremadog hoping for better weather but torrential rain forced them to try the Hylldrem Girdle, but that too was wet even though the guidebook states it stays dry in the most inclement weather. NOT TRUE.
Ali led the first 5a pitch on wet hand and foot holds, meanwhile Alan and Nich were getting soaked in the tree with no sign of the weather abating……so they bagged it after a delicate retreat and climbed at the Beacon all afternoon where Alan and Nich were coached on technique and falling. They took some whoppers and were very brave.
Sunday found the three blind mice in Llanberis Pass and it was time to move up a gear. Nich admirably led the scary traverse pitch of Brant VS 4c whilst Alan led the traverse and thrutchy second pitch. Both were glad they hadn't led the other pitch. The final route of the day was Nea VS 4b. Nich led pitch 1 and 3 and Alan the 2nd pitch. Belays and gear were solid, the climbing delicate and flowing and the weather gorgeous.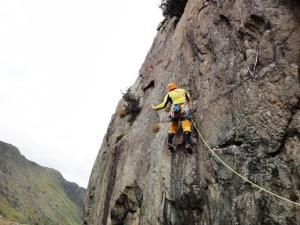 It was a fabulous weekend with Alan and Nich developing their skill and technique. It was also full of fun and comeraderie. Who could ask for more.
'We had a great time. We thought in the car on the way home that one thing we should do having climbed the pitch is to reclimb it leading the pitch we seconded. Should accelerate improvement and get the miles in. And we need to reduce the faff factor. Thanks again for everything. We learnt a lot and enjoyed ourselves hugely.' Alan Davies