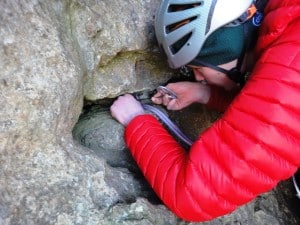 It wasn't the best forecast for Saturday but Sunday was sunny and dry so we decided to 'go for it'. Ali met the two youngsters – 14 and 16 and told them the plan for their 2 day course. Both were familiar with Symonds Yat and they headed for the crag to play with gear; placing it one handed, building belays, mock belaying and generally getting up close and personal. By the afternoon, the rain became more of a persistant presence and they moved area to put their training into practice. Both led well, their gear was solid and their climbing balanced. They both brought their second up and abseiled off. The last hour was the most dramatic as torrential rain and strong winds hit the crag but Josh wasn't put off and led a wet route with extreme confidence. Ali was well impressed.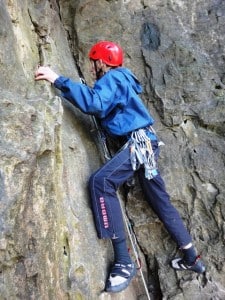 Day 2 the sun shone, but the wind continued to blow most of the day bringing the temperature down. It was time to put their skills to the test and try leading slightly longer and more technical routes. Ali led first setting up an abseil rope so that she was on hand at all times should they need any encouragement or support, but both led well maintaining their composure, using their feet well, placing good gear that they seated well and moving fluidly up the rock face. It was obvious that they were both highly motivated and determined to do well.  There was only one 'wobble' when Josh developed the Elvis leg, but Ali calmed him down, told him to drop his heels, helped him select the appropriate gear and he successfully made it to the belay. He was a little discouraged by his performance, but this is just a part of climbing that everyone experiences from time to time, and the fact he took control will stand him in good stead for the future.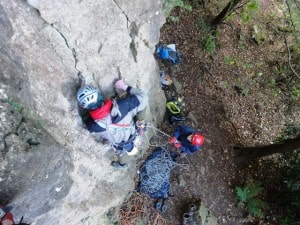 All too soon it was time to say goodbye, but it won't be the last Ali sees of Josh and Jazz and they have a great climbing career ahead of them. It's good to see two young men drawn to the art of trad climbing.