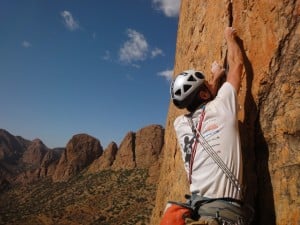 I just couldn't resist when Rich asked if I'd like to go back to Morocco. The thought of perfect rock, warm sunny weather and stunning scenery was too much.We had an amazing week. I revisited a couple of climbs: Golden Compass and The Fairest in the Ida Ougnidif area and Firesword in the Tamza Valley – NOT the Samazar valley as named in the guidebook, leading the pitches I had seconded previously and all 3 routes were as good as I remembered. In fact Firesword was better.
We did Black Beauty on Lower Eagle, which seems to wander all over the place. It's basically a straight line but if you follow other people's chalk it isn't and there is quite a bit of moss to avoid. An excellent route though with lots of exposure and quite a tough crux for E1 5b. We also visited Tramline slabs on the hillside above the Thumb. These were tough routes – gritstone cracks that went on for infinity and swallowed gear like a monster. Moving cams up was the only option to make sure you had enough gear.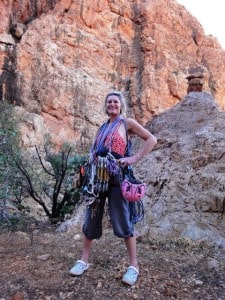 Our final day found us on Fylde crag, a hidden gorge in a beautifully remote area. We were feeling a little achy by day 6 so decided on a nice long VS 4c, which was actually a great route with lots of exposure and exciting moves that maintained interest throughout. We were greeted by the goat herder on route who shouted Salaam Alaykum, made sure we were ok and knew how to get off, and then visited us once we were back on terra firma to shake our hands.And then we did a new route – a 30m climb that started in a wide vertical crack and moved left over an overhang into a diagonal crack which we named Salaam Alaykum – a fiiting end to a brilliant trip. Peace be with you.