It is always interesting where clients find out about you. Often it is word of mouth, sometimes directly from the website but for the first time Ali met Paul via a back issue of Trek & Mountain when Monsterclimbs ran their Learning to Climb Series.Paul is quite new to climbing and came via the walking/scrambling route. He is a keen scrambler, but up until now has only seconded when a rope has been involved.
His main aim of the day was to improve his footwork, develop his climbing techniques and have a better understanding of gear and ropework, so they began with a 4 pitch ascent of Snoozin' Suzie at Symonds Yat. Ali initially showed Paul how to lead belay, and how to remove and rack the gear .Paul was quite nervous to start, but became more relaxed as he got used to the exposure and began to trust the belays. He also found the climbing shoes that Ali had supplied, enabled his footwork to be more precise and accurate.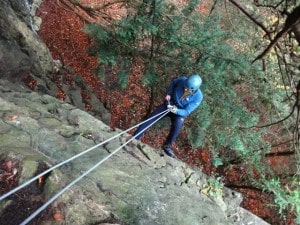 The second half of the day saw Paul building his own belays, following slightly more technical routes to focus on his footwork and becoming an independant abseiler. It was an intense day for Paul, and he gained lots of knowledge that he will hopefully have the opportunity to put into practice. Ali thinks that this won't be the last she sees of him and that he may just become obsessed with climbing, whilst scrambling takes a bit of a back seat. He was talking of buying his first bits of kit as they parted company……..
'I really enjoy scrambling on long routes and have developed ambitions to climb some of the stylish ridges in the Swiss Valais. However, it has been an uncomfortable truth for some time that I would have to do some actual pitched climbing if I am ever to realise this goal.
I find the indoor climbing wall boring and don't want to have to drive up to North Wales every time I feel the urge to climb. So when I discovered that Ali Taylor offers rock climbing instruction in the Wye Valley, I couldn't wait to get started.
Much of the gear and ropework for climbing is still a mystery to me, so my main goal for the day was to improve movement skills and footwork. Ali took this on board but recognising that I didn't know what I didn't know, she also had other ideas. As well as seconding on a challenging multi-pitch route, I also got my first real insights into the process – lead belaying, placing / removing gear, abseiling…
Up until now, I have never been shown these things in any detail. Consequently I have come away with a far greater understanding of what is required to climb on rock and would even say I am possibly ready to lead others on a roped scramble.
Ali over delivered on my expectations and I would strongly recommend her to anyone who is serious about improving their climbing (and not just following someone else for a nice day out!). She is meticulous in her approach and will not compromise safety under any circumstances. Added to that she is great fun and has lots of stories to tell about her climbing experiences.
She may not have converted me fully from scrambling to pure climbing, but one thing is for sure, I will be heading back to the Wye Valley in 2014 to climb a couple of Severe routes!' Paul Maguire