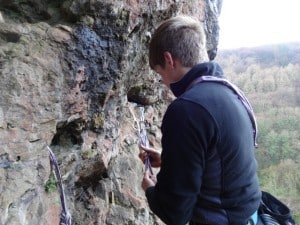 It was their third meeting – it is always rewarding getting repeat business as it shows you must be doing something right. James had experienced an outdoor day and an indoor lead course with Monsterclimbs but now with his growing confidence leading indoors he wanted to take the next step. Ali and James chatted all the way to the Yat catching up on the intervening months and as they arrived Ali said 'so we'll get you to lead some trad today shall we?' James' face lit up and he replied in the affirmative.
The forecast had been pretty reasonable but  that's not the day the God's delivered. Rain, rain, a thunderstorm and hail. Nice……. They looked at gear, the hierarchy of gear, optimum and marginal placements, building belays and rope management. The rock was a little greasy and extremely muddy underfoot but initially the rock was quite dry. Ali led Golden Fleece putting in gear for James to aim for,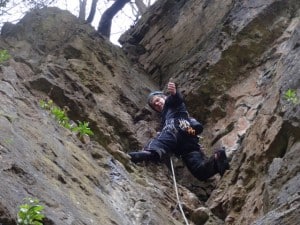 enabling him to fill in the gaps with his own gear. Ali was so impressed with his ascent – his footwork was precise and accurate and he seemed relaxed and confident that she stripped the gear and he led it for the second time placing every piece of gear. It was an impressive ascent, and all the gear (if you exclude the first cam that actually fell out) was pretty solid.The heavens then opened and they quickly moved to a more sheltered area of the crag. Whilst waiting for the rock to dry Ali showed James some clever tricks with a guide plate – belaying, lowering and hoisting. He found it all very fascinating. The rock was taking its time to dry and James was getting itchy feet. He wanted to give the route a go despite the black areas of rock which were so obviously wet. He made a very determined and courageous effort, but backed off the last 10 feet – overcoming a bulge on very slippy holds. Ali lowered him off a thread, swapped over roles and led it to the belay with thunder booming in the near distance. He had done well to get so far – an impressive attempt for only his third lead.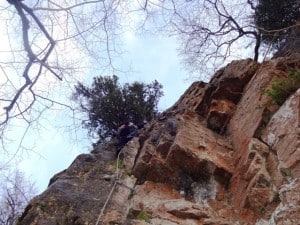 When he followed it James decided he had made the right decision, he found the last 10 feet the worst section, as he didn't trust his feet on the wet hand and foot holds. It was good to see honesty and caution in a very mature young man. Knowing when to back off and when to push on takes years of experience and can avoid a serious incident. Ali thinks James will go far in his climbing career. As they abseiled off they were lashed with hailstones and rain and slithered their way uphill back to the safety of the car. Despite the weather James had a brilliant day and wants another lead day in the summer – they may even get some sun next time. A bientot James.