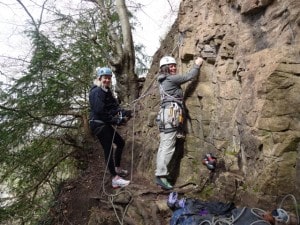 Sophie and Camilla, two strong, successful and single minded ladies took on the challenge of trad lead climbing in the Wye Valley. Sophie took to everything with comfortable ease, placing gear and using her feet to keep her in good balance. She had a calm and determined focus which enabled her to make efficient progress.
Camilla, was just as focused and had a knack for discovering good placements but once she left the ground and began to climb the nerves kicked in. Camilla spends much of her time controlling and managing difficult horses, and was disappointed with her nervousness. It's all about comfort zones and taking it one step at a time. If you put Ali in front of a wild bucking horse she'd probably pass out and be trampled to death – but Camilla is in charge, she has no fear and the horse backs down. The problem with climbing is it's inanimate, so the only challenge is overcoming your own fears – however unfounded they may appear. Fear is a personal thing and it's only by persistance and gradually moving your comfort zone that you can you begin to overcome it.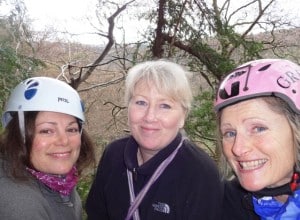 In their own way both women had a successful day. Camilla challenged herself and pushed the boundaries of her comfort zone and Sophie became yet another climbing casualty – she became an addict.
'Thanks so much for a great day.  I really did enjoy learning all that and want to do more leading – and make the most of it soon, so I'll book in a day with you at some point – this summer I hope.' Sophie Harris