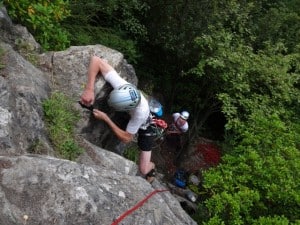 Josh, 15 and Six feet 6 inches is becoming a rock demon. He takes his 24 year old brother climbing ……and looks after him well. He wants to know all there is to know about climbing. He wants to climb as much as possible, he wants to be safe and that's where Monsterclimbs comes in. Josh is a student at Bredon School, where the whole of the child is nurtured not just the academic side and that's where Ali met him when he unofficially joined the climbing group on a Wednesday afternoon early last September – he was suppposed to be playing rugby for the school team. During that first session he just joined the group and got on with the climbing – very much at ease, knowledgable, keen, quiet and modest. He has since climbed indoors for 2 terms doing NICAS, done an outdoor trad and an indoor lead course with Monsterclimbs – see previous blogs – but aspired to climb multipitch routes.
Tom doesn't have the same opportunities to climb as Josh, but it's obvious he enjoys being on the crag with Josh and trusts him implicitly – he also wants to be a lead climber too. This was his second only trad lead – the second pitch of a multi-pitch climb. It was daunting, he was nervous but determined and he had an Ali by his side on an ab rope to offer support, encouragement and the odd bit of help. He did well and topped out with some relief building an excellent belay.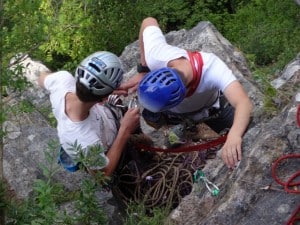 Josh led through, and reached the belay still in the shade – the early start had been well planned. He was 'discouraged' from using the tree to belay and had to work hard to find a suitable belay in the cracks in the back wall, bringing the ropes forward to the top of the crag and retying them through his rope loops, eliminating the need for screw gates.
Two long abseils and they were all back on the ground – more than ready for lunch.
The Broadwalk is a very popular area for practicing gear placements and leading which is where they headed next, but it was like walking into an oven – at least 30 degrees and with the humidity was physically draining. Tom practiced building belays and placing gear then led a route onto the terrace, set up a belay, brought Josh up, set up an abseil and they both abseiled off pretty much independantly.
They ascended via the 'Easy Way Down' – quite inappropriately named as it's polished, slippy and tough going with heavy rucksacks. Josh was carrying the heavier load so Tom spotted Josh on the more difficult sessions. It was good to see Tom looking after Josh – they make a good team.
Once at the top, they sorted the gear, talked about the day and collected all the rubbish that had been kindly left by the litter fairies. It was a pleasure to spend the day with two remarkable people who were so easy to be with, so keen and with such an incredible zest for life.